WESmag >>
 you are enough.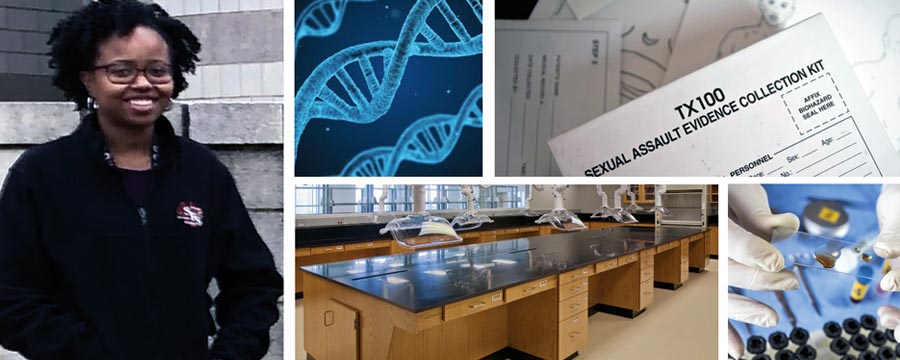 Dr. Esiri Tasker-Armstrong '14 admits she became interested in forensic science in high school after reading fictional crime novels. This newfound interest led her to discover crime shows like Forensic Files and she became hooked on forensics. Today she serves as forensic biologist II at the Southwestern Institute of Forensic Sciences in Dallas, Texas, where she analyzes sexual assault kit evidence for the presence of male/Y-DNA.
Most of the leaders in the field of forensic biology are men but Esiri says she's mostly worked with women. This Corn Scholar and biology major says she has experienced more passive racism than sexism in her career. Overall she hasn't observed a culture of sexism, but she has witnessed horrible, sexist behavior from some men in her field.
"Honestly, I'm far more concerned about how I'm perceived as a Black person than as a woman. There are Black and POC women/femmes in my field but we're certainly not the majority. Part of the reason I earned a PhD was to give people fewer excuses to not take me seriously."
According to Lorman Education Services's website, in 2019 people of color made up nearly 40% of the population. However, people of color, especially women, continue to face bias in the workplace. Due to extreme inequity in the workforce, women of color are more likely than white women to stagnate in their career.
"At first, I struggled with feeling inadequate next to my peers, which was further exacerbated by insecurities about being a Black woman in a STEM field. Thankfully, I had a support system that helped me realize that I am good enough. Once you come to that realization, things like entering a male-dominated field become far less intimidating. You're able to tackle things head-on because you know yourself and the opinions of others begin to matter less and less."