Fall/Winter 2018 Class notes coming soon.
fall/winter

2017 Class Notes
1930s
Classmates remember Bernardine "Bunny" Smith Thomas '38 of New Orleans, LA, who celebrated her 100th birthday in March 2017 with her four children, 14 grandchildren, 32 great-grandchildren, and with friends from the community and from Lambeth House, where she lived for 15 years. Sadly, Bunny passed away on October 1, 2017.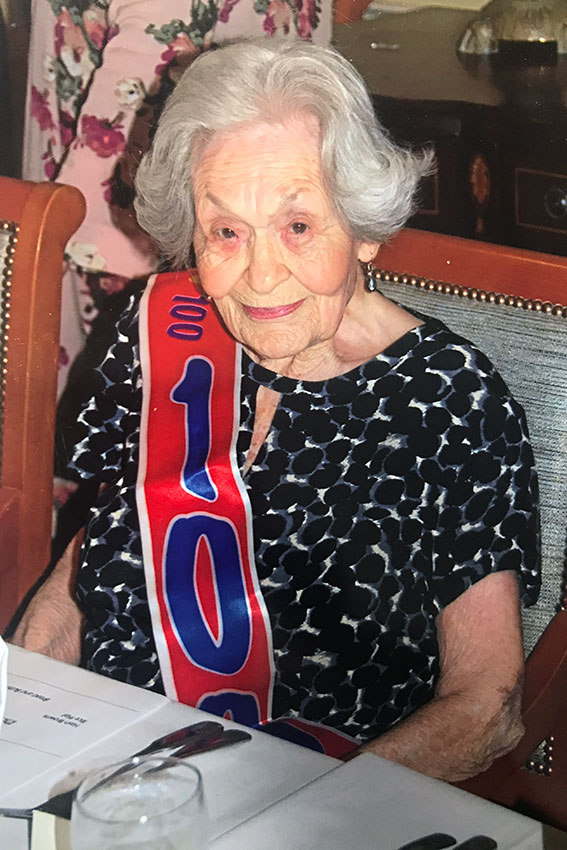 1940s
Bettye Withers Barnes '42 misses her husband, Ben, who passed away in August 2015. She moved from Savannah to Jacksonville, FL, where she lives at Windsor Assisted Living.
Working part time as a lay visitor for elderly shut-ins at her church, Dr. Mary Brown Malone Heritage '45 of Albany, GA, is enjoying good health. 
"At age 95 I'm still hanging in there. Arthritic limbs make it hard to get around but I still do some volunteer work. A younger husband (88) helps!" writes Virginia Martin Lawrence '45 from Cincinnati, OH. 
Jackie Lamm Souder '46 of Evans, GA, continues to live at Brandon Wilde, close to two daughters and two grandsons who live nearby in Augusta. Last summer she visited with Beverly Burgess Meadors '48 who looked wonderful. Jackie's granddaughter married recently and her wedding was in Macon. Her reception was held at Wesleyan. 
1950s
Lots of catching up for Ann Messink Ross '50 of Memphis, TN. She's talked to Jean Link Rankin '50, Jean Logan Russell '50, and Myra Jane Holman Bird '50.
Now at Baptist Village, Mary Eva Bryan Dubose '52 of Macon is very happy in her new lovely assisted living facility. She was sorry she couldn't attend the 65th reunion, but sends her love and best wishes to her classmates. 
From Marietta, GA, Merrilyn Welch Eastman '53 writes, "Our 1953 classmate Julie Withers Roland's husband died in May. Harold fought a good fight and will be missed. Our love goes out to Julie and her family."  On the brighter side, Merrilyn looks forward to seeing all of her classmates at her 65th reunion in April 2018. 
Lucia Hutchinson Peel Powe '53, founder of El Sistima in North Carolina, is pleased that the national organization has moved its headquarters to Duke University in Durham, NC, and that the executive director Lucia hired for the Durham chapter is now the national director.
Caroline Eagerton Upperco '53 of Wilson, NC, had a wonderful visit with Susan Brown Allen '17 when she stopped by Caroline's home in March. Caroline enjoyed seeing pictures of new buildings at Wesleyan. Jesse and Caroline celebrated their 60th anniversary (June 23) with family and friends!
"My husband, James Clark, died April 12, 2017, after five years with Alzheimer's," writes Jeannice Hammond Clark '54 from her home in Glen Mills, PA. "We met at Wesleyan, became engaged, and married in 1955 – for 62 years." (See Sympathy)
Largo, FL, resident Leah Wallat Odden '54 has put up her traveling shoes...for a while. "My husband had a stroke in August so we had to cancel two trips. However, he is making good progress and we hope to be traveling again soon."
Leonard and Libby Truitt Furlow '55 of Gainesville, FL, are still in good health. "Creaky, but up and around. We enjoy seeing Betty Upchurch Hasty '55 every few months. Our four granddaughters are growing up too rapidly. Shirley Salter Shields '57 and I still enjoy our garden club together here in Gainesville."
Dr. Carla Dubose Kalec '57 heard wonderful things about the 60th reunion, but was sorry to miss it! 
Classmate Joan Maddox Sammons '57 of Atlanta was in attendance and writes, "Reunion this spring was such a joy! The campus is perfectly beautiful, with new buildings that blend seamlessly into the landscape. Wesleyan is the same, and yet better than ever. Thank you, Ruth, for so many new opportunities for women.  Thank you for keeping Wesleyan the best choice for so many young women!"
Martha Middlemas-Bryant '58 of Sapphire NC, reports that she was so happy to hood her granddaughter, Alex Middlemas '17, at graduation in May. "I loved being with Eleanor Adams Lane '58 at Wesleyan, and going to Chautauqua, NY, with Betty Nunn Mori '58. I also just got back from Russia." Martha says she is looking forward to her 60th reunion in April.
"It was great to feel like young Wesleyannes again," says Lorena Campbell Piper '58 of Jennings, FL, who had great fun with her Wesleyan friends at St. Simons Island, GA, in May 2017. 
Anne Swetnam "Swety" Barton '59 lives in Goose Creek, SC, close to her granddaughters. She writes, "Some health problems but still going!"
Life is good for Harriett Johnson Bell '59 of Greenville, SC! "Mel and I enjoy everything we do, just don't do much. Our Sunday school is the greatest and all of our children, grandchildren, and great-grandchildren are well.  I have a new puppy, a Havanese named Ruff. He sleeps all night and plays all day. Looking forward to our next reunion. Love to the Class of '59." 
1960s
From Tallahassee, FL, Ermine Owenby '61 urges everyone to support the Red Cross whose prime responsibility is to provide shelter in time of a disaster. And Ermine did just that at her local Red Cross Operations Center during Hurricane Irma where she worked at the reception desk answering phone calls, giving driving directions where shelters were located to clients by phone, greeting incoming volunteers from out of state and to local persons coming in to volunteer. "Prior to August 2015, I had spent 20 years as a Disaster Services Liaison Officer, most of the time in our chapter, and a few times in the EOC of several nearby counties. Very rewarding work!" writes Ermine.
From Dunedin, FL, Shelia Leto Scott '61 reports, "My husband, John, retired from ministry in the Episcopal Church for the third time this past June. We moved to Dunedin, FL, and are enjoying this charming place (pool, beach, church, chorale, and daily gym visits)."
Sherry Staples Hubbard '62 and husband Charlie enjoy life in Signal Mountain, TN. They stay busy keeping up with five grandchildren. 
In Brunswick, GA, Myra Hicks Korb '63 is uplifting her community with her musical talents. She is still organist at First Presbyterian, and she plays the harp regularly as a volunteer with Heartland Hospice. She also enjoys playing harp with her daughter's group, the First Coast Harp Ensemble, in Jacksonville, FL. 
"Our grandchildren keep us busy.  Ages 9, 6, and 3. All playing sports this fall, so Saturday consists of going from one game to another. The 3-year-old, George, who has been trying to get on the field since he could walk, is now old enough to play soccer though at that age they just run up and down the field in a herd.  Fun to watch," reports Virginia Barber Perkins '63 from her home in Tallahassee, FL.  
"Sadly, my husband, Ed, died on May 19, 2017, as a result of lung cancer. I will stay in Shreveport, LA," writes, Rebecca "Becky" Bullard Powers '63. 
Steinway Piano Company honored Glenda Barrett Bull '64 of Evans, GA, with a piano teacher award. This year, she is teaching 25 students. Congratulations, Glenda!
Congratulations to the family of Becky Johnson Ingram '64 and Bennie of Monroe, GA, whose first great granddaughter, Memrie, enjoyed her very first birthday!
Andrea Moody '64 of Cutler Bay, FL, will always be grateful for President Ruth Knox and the School of Nursing!
Alumnae Weekend is not just for reunion years, and Linda Maria Willson '64 of Jacksonville, FL, can attest to that! "I attended to celebrate my daughter Sharon Bressaud Mladucky's 25th reunion. I also served as Candlelighter to a 2017 graduate and friend, Elizabeth Harrell. What a lovely time I had!"
"Still chasing four grandsons. No Wesleyanes in sight!" reports Sharon Smith Pizzo '65 from Tampa, FL. 
From Athens, GA, Suzanne Spence Joyce '66 writes, "Three women and I shared a suite our junior and senior years, having known each other since our freshman year. Jo An Johnson Chewning '66 of Lawrenceville, GA, Marsha McDonald Godsey '66 of St. Petersburg, FL, and Mary Towers Weese '66 of Clarksville, GA, and I have continued to get together whenever we could ever since. We have attended reunions when possible, just met for lunch, dinner or tea, or spent weekends with each other. Sometimes we haven't all been able to be there in person, but we are always there in spirit! Without Wesleyan, we probably would not have known each other, and we would have missed a great blessing in our lives."
Congratulations to Barbara Bryant '67 in Jacksonville, FL, on her retirement. She writes, "I have retired, and am looking forward to at last having some time for myself!"
Marilyn Vickers '67 of Athens, GA, is always on the go, traveling annually to Seattle, San Francisco, Colorado Springs, NYC, Dallas, Tallahassee, and Gainesville, FL, to see family and close friends. 
Although she calls Juno Isles, FL, home, Lou Ellen Semler Boyes '69 still enjoys adventurous travel. When home, she plays with her three grandchildren. She is looking forward to her 50th reunion in 2019!
Active as a guest conductor, adjudicator, and consultant, Dr. Barbara Marble Tagg '69 of Camillus, NY, serves on the Continuo Committee for Chorus America, and presented a research paper in Athens, Greece, in June 2016. Barbara led a summer choral reading session for J.W. Pepper.
1970s
Congratulations to Ann Scott Terry '70 and husband Vernon of Catawba, SC, who will be inducted in January 2018 into the Winthrop University Athletic Hall of Fame. They are the FIRST non-athletes to be inducted. Ann and Vernon were the recipients of this surprise announcement during a meeting with the softball team. 
In Jacksonville, FL, Carol Ann Para '72 teaches private piano all year, saying it is a blessing to mentor and develop young musicians. She is glad her mother made her practice! 
Rita Parker McGarity '75 of McDonough, GA, exclaims she is "so proud of my friend, Ruthie Knox '75, who has served Wesleyan well over the last 16 years! Love to my Ru Ru!" The WCAA sends sympathy to Rita on the death of her father in November. 
Jane Speir Brook '76 enjoyed staying at her mountain house in North Georgia. "The lake and the mountains are beautiful." She attended graduations for grandchildren Benjamin Brook and Graham Kemp in 2017.
Recently retired Mary Knight Robinson '76 of Bainbridge, GA, enjoys spending time in church activities, catching up on personal projects, and visiting her new grandchild who lives in CA.
Lynn Moses '77 from St. Simons Island, GA, Douglas Ponder Suto '75, also from St. Simons, Eileen Baldau Kimes '75 from Ocala, FL, and Chris Northcutt enjoyed a trip to Costa Rica in October 2017, including a hike to the waterfalls.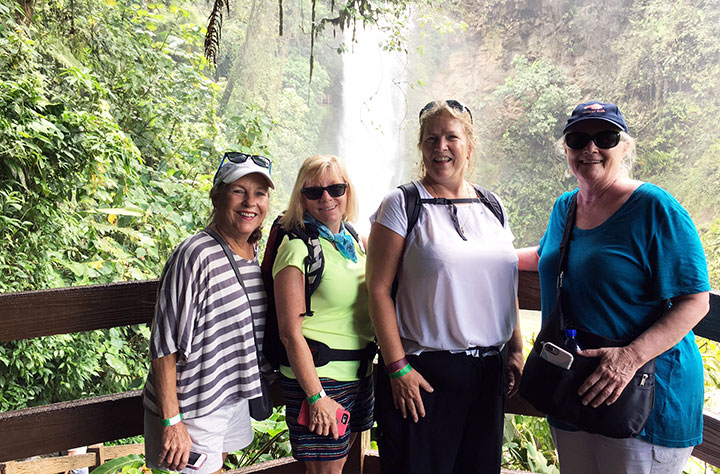 "I retired from teaching in 2008. I spend my time painting, traveling and watching golf. I also read a lot," reports Virginia Phillips '77 from Macon.
Each year the Georgia Writers Association recognizes Georgia authors of excellence by presenting the Georgia Author of the Year Awards (GAYA). Congratulations to the 2017 Georgia Author of the Year for Essay Kathy A. Bradley '78 for her book, Wondering Toward Center. Kathy was recognized in June at Kennesaw State University. In 2013, Kathy received the Georgia Author of the Year award for her first book, Breathing and Walking Around: Meditations on a Life. The GAYA ceremony has the distinction of being the oldest literary awards ceremony in the Southeast. 
Dr. Lucy Lee '78 of Columbia, MO, continues to chair the department of classical and modern languages at Truman State University.  She became a grandma in October and is seriously considering retirement!
Anne Hughes '78 and husband Jay, along with their daughter Mollie Elizabeth Hughes '06 and her classmate Jaime McQuilkin '06, met in Sky Valley, GA, for the total solar eclipse. They dined on Moon Pies and Sun Chips in the path of totality, while the clouds blocked their view. Four dogs were also in attendance.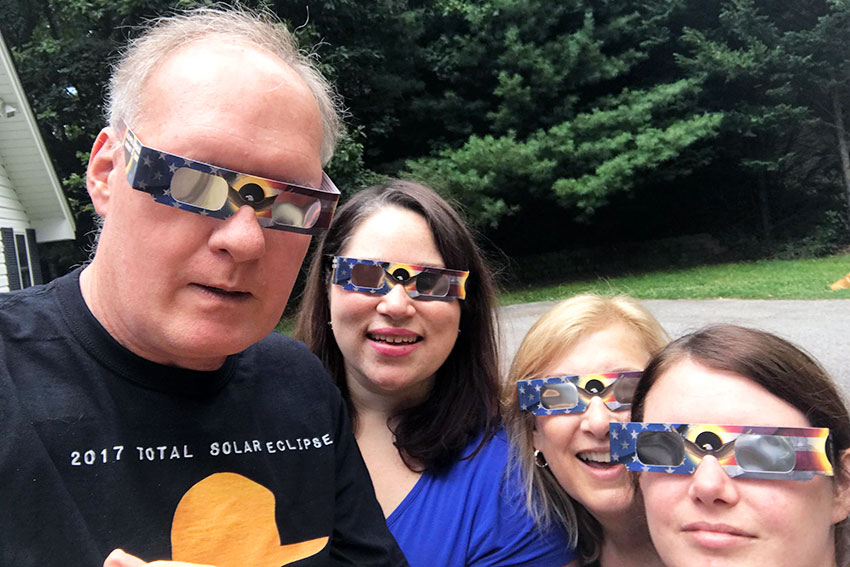 "I am still adjusting to life as a single woman (widow) again, for the first time since 1957.  Staying active in church and community. Enjoying family, reading, traveling, the arts and especially music," reports Mary McMillan Mancin '78 from her home in Bartow, GA.
1980s
Congratulations to Dr. Eileen Begin '80 of Silver Spring, MD, fourth generation Wesleyanne, who has recently been named the department chief of anesthesiology at Medstar Washington Hospital Center in D.C., a 900-bed hospital and top trauma center where Congressman Steve Scalise was taken for treatment after being shot at a baseball field - another Wesleyanne success story.  She and her family vacationed in the Fuji Islands this past summer for a well-deserved vacation.
Wesleyan was the place to be for the wedding of Meghan Meyer von Bremen, daughter of Wende Sanderson Meyer von Bremen '80 of Macon. Meghan married Tim Ondo on November 4, 2017, in Pierce Chapel followed by a reception in Oval Hall. 
Newly retired Jeanon Davis Massien '84 of Gulfport, MS, has served as a member of the board of directors, secretary, vice president, and president of the Alabama Master Gardeners Association (a 2,000-volunteer member 501 (c) (3) non-profit organization), for the past eight years. She enjoys traditional Japanese embroidery, dating back to the 500s A.D. Jeanon is sad to see President Ruth Knox '75 retire, but knows she leaves a much stronger, thriving Wesleyan.
Hazel Bodner Berger '85 has relocated to Nashville, TN, to join her family's business, where Hazel is the chief administrative officer for Fresh Hospitality. The group has 172 restaurants in 19 states. The eateries includes Taziki's, Big Bad Breakfast, Biscuit Love, I Love Juice Bar, Martin's BBQ, and Grilled Cheeserie. 
New grandmother Sara King Pilger '85 welcomed grandson Oliver Wade Pilger into the world on July 24, 2017, in Orlando, FL, where she spent 8 days on baby duty.  Proud big brother Jacob (age 5) was a great help, and was on board to take her place as chief cook and bottle washer after she returned home to Decatur, GA!
"Hey Golden Heart classmates," from Karol "Jeannie" Cheng '87 of New Taipei City, Tamshui in  Taiwan, Republic of China. She would love to reconnect on the net! 
1990s
Earlier this year Dr. Valerie Knopik '94 of Zionsville, IN, accepted the Ben and Maxine Miller Endowed Professorship in the department of human development and family studies at Purdue University. 
Erinne Guice Hatchett '95 of Bremen, GA, couldn't be more excited or proud for her cousin Clint Hobbs, who is the new vice president for strategic enrollment management at Wesleyan. Welcome to the Wesleyan family, Clint!
As a GreenFaith fellow, Tamara Sasha Adkins '96 will spend this year looking for ways to help her church become more environmentally sustainable. "I am glad I can combine my faith with my academic work. I am in the Ph.D. program at Antioch studying endocrine disruption."
Elizabeth Mathis '96 of Chicago, IL, accepted a position at Northwestern University this spring as the assistant director of the new MA in Sound Arts and Industries program. She loves living in Chicago! 
Congratulations to Kathryn Smith Vinson '99 of Knoxville, TN, who was named the 2017 Leukemia and Lymphoma Society's Woman of the Year for East TN.  Kathryn, husband Cris, and family have had a busy year! Daughter Ella Kate (10) discovered the Harry Potter series, enjoys cross country, indoor rock climbing, and has achieved orange belt in Krav Maga. Daughter Amelia (7)  began competitive gymnastics and plays spring and fall soccer. Both girls take piano, celebrated straight A's, and visited the American Girl Doll Museum in Chicago last summer. Kathryn ran the Flying Pig marathon in Cincinnati and  Chris celebrated 15 years with Homeland Security.
2000s
The International Association of Blacks in Dance (IABD) has selected Pilar Wilder Lowden '01 of Macon as a Next Generation Leader who will participate in its Next Generation Leadership Program (NGL) launched in 2014. This leadership development program identifies and cultivates the next generation of Black Dance leaders and also supports IABD's desire to create a road map for building and operating a healthier, more sustainable organization. NGL participants are the "rising stars" within IABD's membership. Congratulations, Pilar!
At the 2017 National Pharmaceutical Association (NPhA) convention in Las Vegas, NV, Ebony Roberts Tate '02, PharmD, BCPS, BCGP was awarded the Terrence Burroughs Pharmacy Leadership Award. This award recognizes her contributions to the profession of pharmacy through involvement at both the local and national levels. Ebony was selected for this award by serving as a role model in volunteer community leadership and demonstrating a commitment to serving the (pharmaceutical) community in various capacities.
Dr. Kelly Jones '04 has moved from Mississippi to Virginia Beach, VA. In Mississippi she worked as a pediatrician (children's medical geneticist). She now works as a pediatrician/medical geneticist at the Children's Hospital of The King's Daughters in Norfolk, VA.
She's going the distance! Sabrina Laney Warren '04 of Cordova, TN, embarked on her first full marathon, the St. Jude Memphis Marathon Weekend, to help fight childhood cancer. 
Congratulations to Dr. Nyasha GuramatunhuCooper '06 of Marietta, GA, who has been selected to serve as the 2017-2018 Race and Ethnicity Faculty Fellow through Kennesaw State University's Center for Diversity and Engagement! Nyasha proposed the creation of a digital exhibit that profiles members of the KSU community and their cultural identities and narratives. "I navigate the world as a Shona, Zimbabwean, American, multilingual, and bicultural Black woman. All of these things accompany me to and in all my interactions here at the institution. These identities show up in my teaching, scholarship, and service as integral parts of my personhood. This expression of myself leads me to wonder how many other unspoken cultural identities I encounter here at Kennesaw State University. This curiosity has led to conceptualizing a visual and audio exhibit that features the cultural identities and narratives of members of the KSU community: aside from, but in contribution to the greater 'Owl Way' or institutional culture."
Following a Crohn's Disease diagnosis over a year and a half ago, Catherine Dermody '08 of Atlanta has become an active volunteer with the Crohn's & Colitis Foundation of America.  She was filmed for a short video humanizing clinical trials on the national Foundation's website, which was launched in July 2017 at www.crohnscolitisfoundation.org - also educating many on clinical trials.
After working for the last five years as an operations assistant at the non-profit organization Accreditation Commission for Education in Nursing (ACEN), Jessica Dermody '08 of Brookhaven, GA, accepted a promotion as executive assistant to the CEO in May 2017.
2010s
Congratulations to Chelsea Robinson '12 of Clarkston, GA, who is a Woodrow Wilson Teaching Fellow at Mercer! 
Congratulations to Brittainee Lee '14, who earned a master of education degree in inclusive learning from the University of San Diego in August 2017. She also received her Florida teaching license.
After Chelsea Natasha Widener '15 left Auburn University she taught high school science and math for a couple of years. She recently entered the chemistry graduate program at the University of Tennessee on an assistantship. Chelsea lives in Knoxville, TN.
Congratulations to Keshika Marambe '17 of College Park, MD, who is a financial analyst for business valuation and economic analysis at Morten Beyer & Agnew in the DC metro area.