WESmag >>
 the m in stem is for math.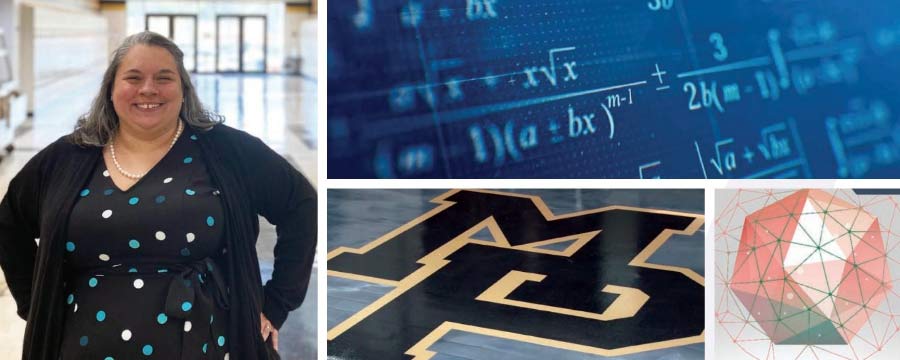 You may be surprised to learn that mathematics is one of the most employable majors a student can choose. Math majors are in demand because their versatility offers potential employers a multifaceted approach to accomplishing business objectives across a variety of industries. The Bureau of Labor Statistics projects a 27% job growth rate for math occupations between 2019 and 2029, a rate extraordinarily higher than the 4% average for all occupations.
Dr. Vida Olivares '02 teaches college readiness mathematics to seniors at Mary Persons High School in Forsyth, Georgia. Vida says she's always wanted to teach math, even as a teenager, and has taught all levels of secondary mathematics over the course of her career. After earning her PhD from Mercer University, she spent seven years teaching K-12 pre-service teachers at the University of Central Missouri how to teach mathematics.
"I love teaching secondary mathematics, especially to seniors preparing to go into the real world. Students learn early whether or not they can 'do math' and I strive to help every one of them realize that they can be successful in math. I love when students who have previously struggled in class come out of that class with a new appreciation of their skill level."
Vida said that while there have been more women than men teaching math in the secondary schools where she's worked, there have been more men in the colleges of mathematics and science. "I felt that I really had to work at the university level to gain respect amongst my male colleagues. It was more frustrating than intimidating. I do not have this problem working at the high school level. With my students, I am glad that I see less of the idea that boys are better at math than girls than when I first started teaching."
Vida says the number one, best educational decision of her life was attending Wesleyan College - that had she attended a larger university, she would have struggled in her mathematics courses and possibly changed her career path. "Dr. Charles Benesh provided me with the positive reinforcement that I needed to continue in mathematics. I want my students to see that there is a place for them in mathematics. I also really stress to my students the importance of advocating for themselves. Wesleyan's leadership opportunities allowed me the courage to step up when it was needed, which I have continued throughout my career."