WESmag >>
 stay in the fight.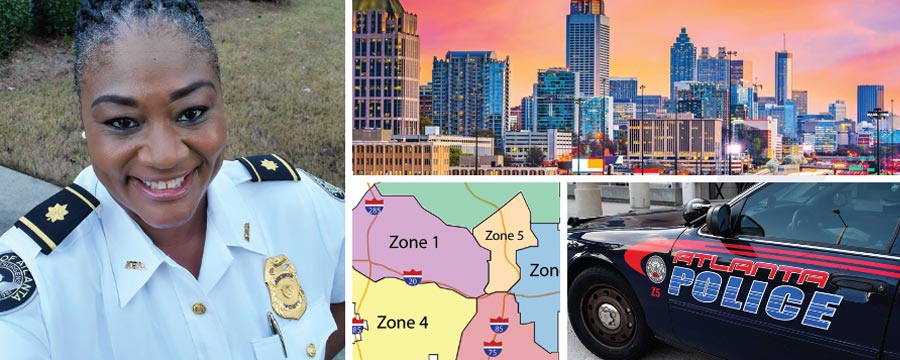 Deviancy, social problems, and the stigma associated with classes are what attracted Major D'Andrea L. Price '90 to join the Atlanta Police Department. She was born and raised in Atlanta and decided the year after she graduated from Wesleyan College to return home to serve her community. During the course of her career she managed the major crimes section - homicide, sex crimes, robbery, domestic violence, aggravated assault, and Crimestoppers – and was a certified instructor to teach at the police academy.
While at Wesleyan, this psychology and sociology double-major worked for the Crisis Hot Line and held an internship at the Macon probation and parole office. D'Andrea believes law enforcement is a male-dominated field and says she definitely met obstacles being a woman.
"Men will try you, and question your authority. Staying humble, taking the high road, and working hard was my motivation. You have to prove yourself, work twice as hard as the men, and stay in the fight. Once I learned to stand up for myself, I became the one that most men were intimidated by!"
Among so many accomplishments, D'Andrea was a senior Georgia Peace Officer Standards and Training certified instructor who served as the official host for the City of Atlanta Police Department to visiting agencies for the College Football National Championship Game 2018, Super Bowls LII and LIII, and Georgia International Law Enforcement Exchange GILEE- 2018/2019.  She was appointee to represent the City of Atlanta for GILEE in Isreal 2018 and National Organization for Black Law Enforcement Executives 2014-2019. She earned her Master of Public Safety Administration degree from Columbus State University in 2018.
D'Andrea's advice to women planning a career in a male-dominated field is to follow your heart. Don't worry about what others say to sway you from your decision. Focus on the career in which you desire, learn the job, and work hard to achieve the goals to make you competitive with men and other women. "Don't sit behind a desk answering the phone and doing paperwork unless it's what you want to do. Don't allow men to dump on you as being beneath them while they are praised for their work."