GAP Nursing Program
Admission into the Wesleyan nursing program is extremely competitive, but select students who choose to begin their college career here are given the opportunity to apply for the Guaranteed Acceptance Program (GAP).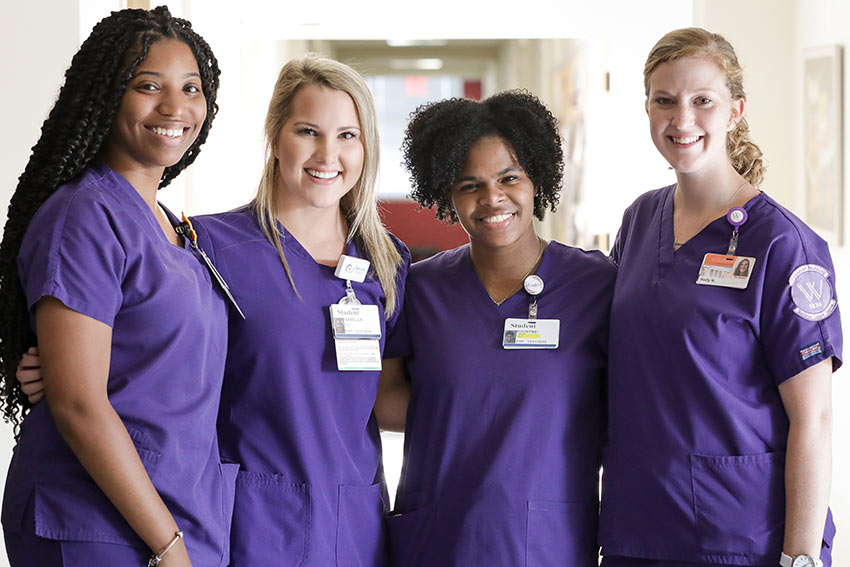 GAP Admission Requirements
Apply and be accepted to Wesleyan College. 
Complete the free GAP Application. (Priority deadline for early acceptance is December 1. Final deadline is April 1.)
Submit one page personal statement essay highlighting unique characteristics and abilities of self, explanation of personal interest in healthcare as a profession, and any personal life events that have prompted interest in a nursing career. Personal essay should be one page, double spaced, and in 12 pt. font.
Submit two academic references, sent to admissions@wesleyancollege.edu. One must be from a high school science teacher.
Minimum criteria for Guaranteed Acceptance Program Admissions. 
Students admitted to the GAP are required to meet the same requirements while at Wesleyan before beginning the nursing program as other students applying to the School of Nursing, but GAP students who meet the following criteria are given priority over any other applicants to the nursing program.
Maintain continual full-time enrollment in good standing with Wesleyan College between enrollment to the College and entrance to the nursing program
Complete all general education courses.
A grade of "C" or higher in pre-nursing Math, Science, and Psychology courses, all attempts within five years of starting the program are included.
In good academic standing and must have a minimum overall GPA of 3.0 and a minimum GPA of 3.0 in all pre-nursing general education care and concentration classes. By Application deadline, 5 of 7 pre-nursing math and science courses must be completed. Official Test of Essential Academic Skills (TEAS) exam score (latest edition) reflecting a 75 or higher composite score 
Meet clinical requirements for admission to the nursing program as listed in the College Catalogue.
Meet all Wesleyan Division of Nursing enrollment requirements and begin nursing program within 5 semesters (not including summer semesters) from College entrance.
High school seniors admitted to Wesleyan College as first-year students who do not meet the GAP requirements or who are denied admission to the GAP Program will still be listed as "pre-nursing" majors and may still apply to the nursing program during their sophomore year at Wesleyan.
Please contact the Admissions Office at (800) 447-6610 or admissions@wesleyancollege.edu with questions about Wesleyan College or the Bachelor of Science nursing program.