Academic Buildings
on campus
Many buildings on Wesleyan's historic campus date back to the early 1900s; therefore, any buildings constructed before 1977 may not be fully accessible. Students with mobility impairments should consult with the Assistant Director of Academic Resources, who serves as the Disability Resources Coordinator to discuss campus accessibility. Wesleyan is committed to full access for all students and will modify the location of classes, events, etc. being held in inaccessible facilities to accommodate the needs of students with disabilities.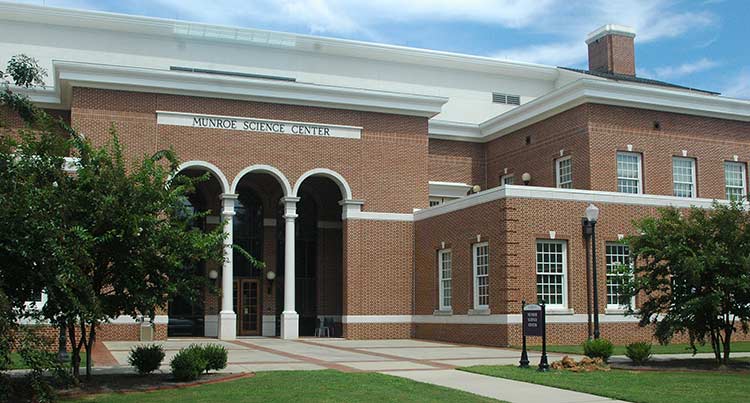 Munroe Science Center
The Munroe Science Center is a dynamic campus centerpiece. The state-of-the-art science facility serves an increasing number of Wesleyan students enrolled and majoring in one or more fields of science while also addressing the great need throughout our state and nation for women who are skilled in medicine, nursing, scientific research, computer technology, and mathematics. Through its eleven teaching laboratories and nine research laboratories, the new facility encourages faculty/student collaboration on research projects, contains interactive laboratories for specific experimentation, and offers individualized instruction in an environmentally efficient and safe setting.
State-of-the-art laboratories include cell biology, ecology, physiology, immunology, and instrumental analysis labs as well as general biology, physics, and chemistry labs. While teaching laboratories serve as classrooms, a small seminar room and two technologically advanced classrooms also are used for instruction. Among its many specialty science spaces, the 42,000-square-foot facility includes an astronomy observation deck, a greenhouse, a vivarium, a community learning center, and the simulation lab for the Bachelor of Science in Nursing program.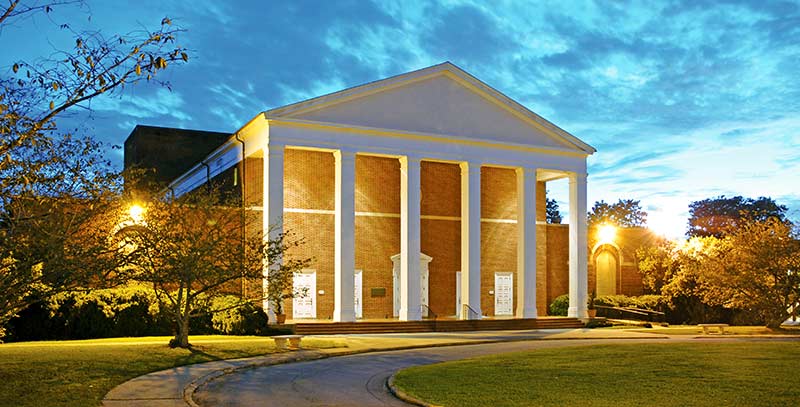 Porter Family Memorial Fine Arts Auditorium
Used for theatre productions, student programs, special events, and the Macon Concert Association. The 1,200-seat Porter Auditorium boasts a forty-foot proscenium, twenty-line counterweight fly system, orchestra pit, and dressing and makeup rooms. It is a popular venue for local and touring performances. The 80-seat Grassmann-Porter Studio Theatre is an intimate theatre space.
In addition to classrooms, offices, and studios, Porter also includes the Cowles Myles Collier Art Galleries
This building, completed in 1956, serves as a cultural center for the campus and community and as a facility for the Division of Fine Arts. In addition to classrooms, offices, and studios, it includes:
The Cowles Myles Collier Art Gallery-established by the late Mrs. Georgie Collier Comer in memory of her father, a renowned artist. The east wing is used for several traveling exhibits each year; the west wing houses Wesleyan's permanent collection.
The Goodwyn-Candler-Panoz Organ-The 1925 Aeolian organ was originally built and installed in the home of the late Asa G. Candler, Jr. of Atlanta. It was presented to Wesleyan by Mr. Candler in honor of his wife and installed in Porter Auditorium in 1958. The organ underwent extensive work in 1989 thanks to a gift from Elsie Lowden Maxwell Hambright '34 in memory of her grandmother, Bell Pound Goodwyn, class of 1874. In 2008 the organ was completely renovated and additions were made to the instrument by the Schantz Organ Company of Orville, OH. The organ contains 73 ranks of pipes and has a four-manual console; it is the largest musical instrument in middle Georgia.
The Grassmann-Porter Studio Theatre, an intimate, flexible studio for theatre classes and productions, opened in 1994 through the generous support of the Grassmann Trust and the Porter Family Foundation. It was recently awarded a second Grassmann grant to enhance its technical capabilities.


 

Tate Hall
Tate Hall, made possible by a gift from the late Colonel Sam Tate of Tate, Georgia, contains classrooms for communication, women's studies, English, history, modern languages, religion, philosophy. The President's Office and other administrative offices are located in Tate Hall. It contains seven SMART classrooms with projection equipment and wireless (WI-FI) network.


 

Taylor Hall
Named in honor of the late Robert Jenks Taylor of Macon, underwent a multimillion dollar renovation in 2009-2010. Making it Wesleyan's first LEED-certified green building and, according to the U.S. Green Building Council (USGBC) project directory, the first LEED-certified project in Macon, Georgia.The facility houses laboratories and classrooms for education, physics, psychology, and business.
The building also contain the Peyton Anderson Amphitheatre. Taylor contains offices, a computer lab, physics and psychology labs, a student lounge, and numerous SMART classrooms with SMARTboards and projection equipment to enhance the learning experience. The education wing features a model science education classroom/laboratory, a model early childhood classroom, and the Wesleyan Center for Educational Renewal.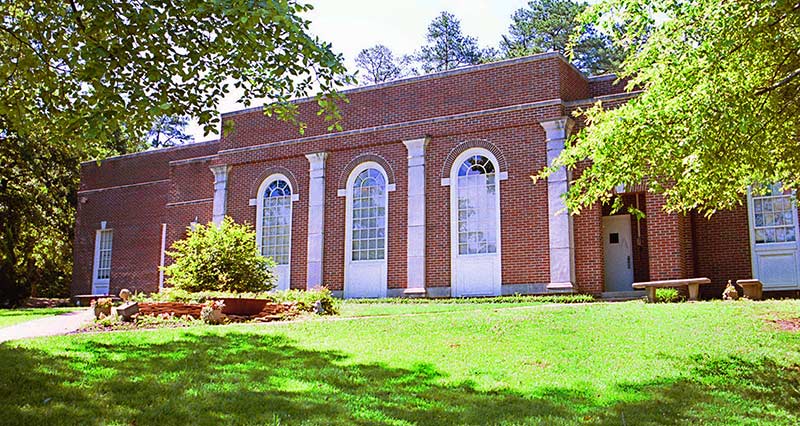 Valeria McCullough Murphey Art Building
The only academic building not located on the quad. The Valeria McCullough Murphey Art Building, built in 1964, is named in honor of Valeria McCullough Murphey '48, a Trustee of the College from 1980 through 1990 and Chair of the Board of Trustees from 1986 to 1989. It contains 10,000 square feet of floor space designed exclusively for the teaching of the studio arts, art history, and computer graphic design. Facilities are included for the teaching of art history, drawing, painting, design, printmaking, sculpture, ceramics, photography, and related subjects. It is also the location of the Frances and Dennie McCrary Art Gallery.