Nine Years of Detangled Afro Hair
Art exhibit by Stephanie J. Woods
Thursday, September 16 – Tuesday, October 26
Opening reception Thursday, September 16 / 7-8 PM
East Gallery, Porter Fine Arts Building

Stephanie J. Woods is a multimedia artist from Charlotte, NC, currently based in Albuquerque, NM, where she is an assistant professor of interdisciplinary art at the University of New Mexico. Her work fuses a relationship between photography and fiber. Additionally, her passion for interdisciplinary practices and material language is evident through her collaborations and implementation of symbolic materials that examine performative behavior, domestic spaces, and alternative realities that reference Black American culture and her experiences growing up in the American South. This exhibit is free and open to the public. Gallery hours 1-5 daily, or by appointment. View Gallery Guide to read more about this exhibiton.
---

I, YOU, US, UNITED TO TRANSFORM
Paintings by Belinda Person
Thursday, September 2 – Friday, October 1
Closing reception Thursday, September 30 / 7-8 PM
McCrary Gallery, Murphy Art Building 
Macon artist whose art focuses on Afro cultural heritage. Belinda's talents include photography, drawing, contemporary art, visual arts, and painting. This exhibit is free and open to the public. McCrary Gallery hours 1-3pm, Monday-Friday daily.
---


FLUX: Esther Mech
McCrary Gallery
Through October 4
Esther Mech (BA Art Wesleyan '17) recently graduated from UGA with a Masters in Fine Arts concentrating in ceramics. Join us to see her recent work and to welcome her back to Wesleyan. 
---

Lora Rust: Quilts, Copper, and Candles
Exhibition: Thursday, October 3, 6-7pm
McCrary Gallery, Murphey Art Building

Lora Rust has an eye for elegance, fluidity and movement. Working in porcelain, her signature technique is a process of pushing the surface of the clay. She carefully textures each piece with her personally designed wooden tools, creating lush patterns with graceful, flowing lines. The designs and patterns found in Gothic Architecture mixed with the fluidity of the Art Nouveau period are strong influences in her work. Inspiration from textiles and fashion design provides movement to the texture on the form. She finishes each piece with beautiful glazes and captivating soda-fired color schemes that uniquely highlight the surface. Free and open to the public.
---


She Tells A Story:
Portraits from Wesleyan's Collection
Porter Family Memorial Fine Arts Building, West Gallery
August 22 through December 20, 2019
Wesleyan has a choice collection that spans from a 15th century Italian Renaissance altarpiece to an Andy Warhol silkscreen. This exhibition highlights portraits of women: alumnae, friends of the college, beloved professors, donors, commissioned portraits and friends of the artists. The paintings and drawings capture all the  complexities of a contemporary woman's life. The styles range from American realist to highly stylized layered portraits. View the paintings and read the stories of the artists and their subjects.   
---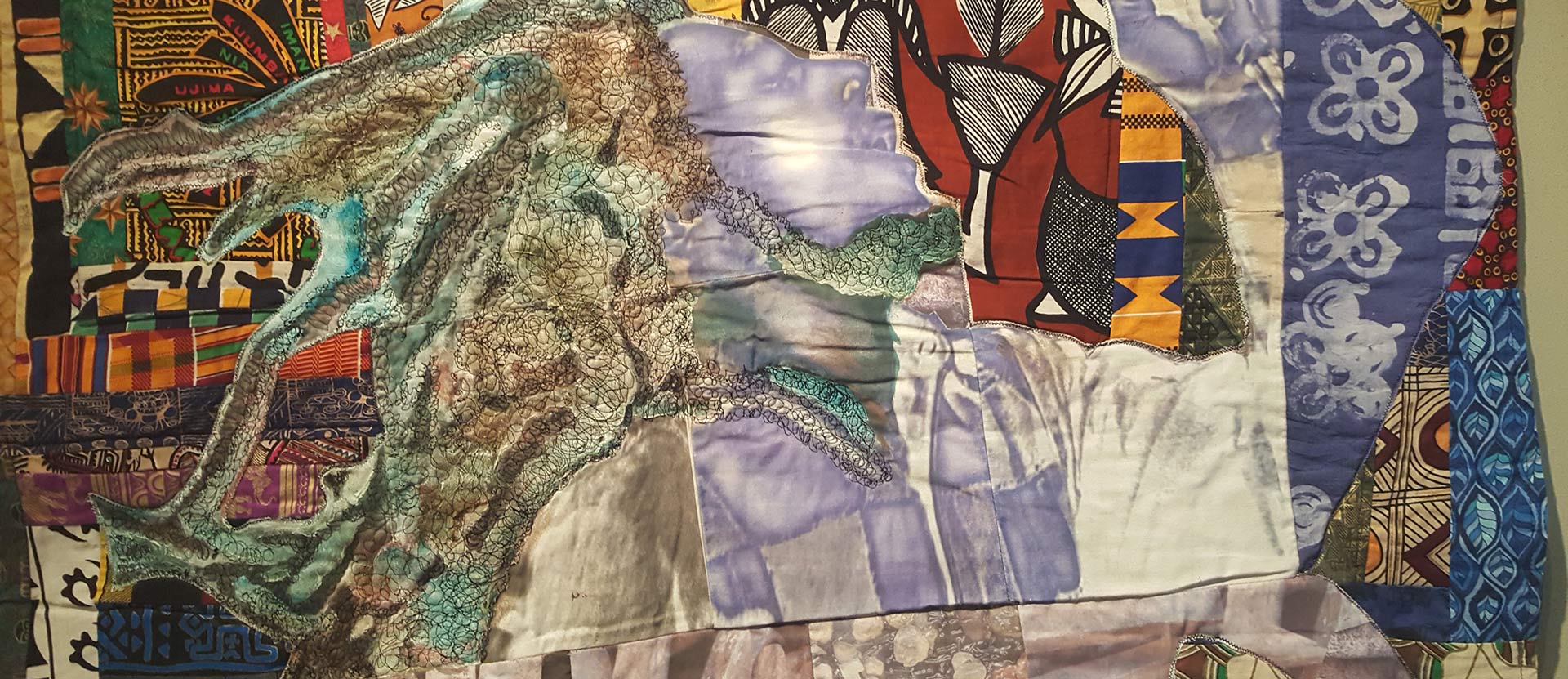 Common Thread:
Contemporary African American Quilts
January 24 – March 1, 2019
The four Macon-area artists' work ranges from representational to abstract but common threads of narrative, gender, identity and justice connect them. While the quilts employ contemporary techniques such as image transfer, much of the sewing and weaving techniques connect to historical American quilting as well as African designs and techniques such as kente.
The exhibition opened with a panel discussion with the artists and moderated by Tubman African American Museum director of exhibitions, Jeffrey Bruce, and an opening reception in the evening.