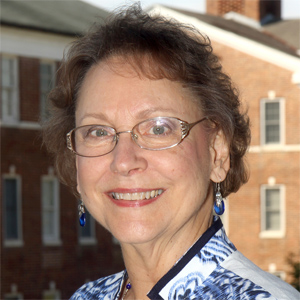 2013 Winner, Distinguished Achievement in a Profession
Tommie Sue Montgomery, PhD, Class of 1963
A scholar, an educator, an author, a photographer, and a Latin American specialist with an unwavering passion for learning and teaching, Tommie Sue Montgomery PhD, is a true Wesleyan Renaissance woman. Tommie Sue did not follow the typical academic career despite advanced degrees from Vanderbilt and New York Universities. A wanderer at heart, her peripatetic life has included faculty or research positions in Florida, Georgia, Pennsylvania, New York, Massachusetts, and Ontario. Along the way she has lived in Mexico, El Salvador, Nicaragua, Belize, and Argentina, and has traveled to 18 other countries in Latin America and the Caribbean. In between she has spent time in 16 European countries. Her home, however, is Ontario, Canada.

Possibly the only person to be awarded three Fulbright Scholarships, Tommie Sue first received a teaching fellowship to Argentina where she taught at the Universidad del Salvador in Buenos Aires. Five years later, she received a research grant to study Salvadoran refugees in Belize. In 2003, she received a Fulbright to teach at the Central American University in El Salvador where she took them her entire El Salvador archive: books, pamphlets, photographs, slides, and interview notes – 25 years of research. To her surprise and delight, the library created the Montgomery Archive that now houses her collection.

Her work and research in Latin America resulted in three books on El Salvador and numerous articles on the war, the role of the churches, U.S. policy in the region, and the peace process. She also edited books on Mexico and peacekeeping in Latin America, and wrote articles for academic and popular publications.

In addition to full time teaching, Tommie Sue has lectured at more than 70 colleges and universities. She served as an informal consultant to UNHCR, the UN refugee agency, and later as co-leader for a USAID evaluation team in El Salvador. In 1992 she was a consultant to a UN peace mission in El Salvador.

The heart of Tommie Sue's career was teaching and mentoring students, introducing them to new ideas, concepts, and knowledge and – most of all – imparting her love of Latin America to new generations. She has toured Wesleyan groups in El Salvador, Guatemala, and Canada. Tommie Sue measures her success by the remarkable number of former students with whom she remains in contact – some of them three decades after they took one of her courses or tours.

Her love for and loyalty to Wesleyan can be seen in numerous ways. She has returned to Wesleyan as a convocation speaker, sponsored students on a trip to El Salvador, joined the Society for the 21st Century, and continues to make Wesleyan a priority in her life.

Tommie Sue's impact as a teacher, however, is her most enduring legacy, and it all began at Wesleyan. Wesleyan provided opportunities for her to discover that she had a brain and to use it. It encouraged creativity and initiative. Most important, Wesleyan reinforced what Tommie Sue's parents had instilled: that gender has nothing to do with achievement.

For her considerable accomplishments and steadfast commitment to her profession; for building upon the ideals of excellence that she embraced as a student at Wesleyan; and for her faithfulness to her alma mater and its students, the Wesleyan College Alumnae Association presents the Alumnae Award for Distinguished Achievement in a Profession to Tommie Sue Montgomery.