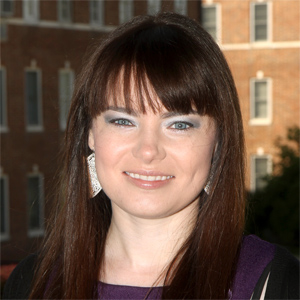 2013 Winner, Young Alumna Award
Mollie Elizabeth Hughes, Class of 2006
Polished, driven, and extraordinarily talented, M. Elizabeth Hughes has accomplished great success since graduating magna cum laude in 2006. In just a few short years, as an emerging leader in the film and television industry, M. Elizabeth has exemplified the very best of the modern Wesleyan woman and is already representing the College on a national level.
Before stepping into the spotlight in Hollywood, M. Elizabeth fueled her passion for making films at Wesleyan and at the same time left a lasting impression. As a student, she directed two plays, one of which was adapted from a short story, was an actress in STUNT, served on the Campus Activities Board, was a Leadership Institute attendee, and never missed a sisterhood activity. After graduating from Wesleyan with a major in communications and a minor in theatre, M. Elizabeth received her Masters of Fine Arts in Film and Television Producing from Chapman University in 2008.

M. Elizabeth has wasted no time making a mark in Hollywood – producing or line producing twenty-two films. Her first feature film, Herpes Boy, starred Beth Grant (No Country for Old Men, Donnie Darko), Ahna O'Relly (The Help) and Academy Award Winner Octavia Spencer (The Help). The film toured the festival circuit and won several awards, including Audience Award at the Austin Film Festival and Best Comedy at Comic-Con International Film Festival. Following Herpes Boy, M. Elizabeth worked on We Live in Public, the winner of the Grand Jury Prize for Best Documentary at Sundance 2009. In early 2011, she produced Miss Dial, a romantic comedy which recently premiered at the Macon Film Festival and is now available in all major video on demand outlets. She line produced the film Save the Date, starring Alison Brie and Lizzy Caplan, which premiered at the 2012 Sundance Film Festival. She has also lined produced Much Ado About Nothing, a modern adaption of the Shakespeare play directed by Joss Whedon, due for theatrical release in June 2013. Additionally, she has recently co-produced Short Term 12, winner of the Grand Jury Prize and the Audience Award at SXSW 2013; she is currently in pre-production for her next feature, Domain.

Though she is miles away from Wesleyan, M. Elizabeth has not forgotten her alma mater. As one friend describes her "it was apparent she had Wesleyan in her blood." This is true – her mother, Anne Scarborough Hughes, Class of 1978, is a Wesleyanne and M. Elizabeth grew up interested in all things Wesleyan. She returns for reunion weekends, has pledged her financial support by joining the Society for the 21st Century, has organized numerous activities helping to maintain the close ties of her sister classmates, and has shared her knowledge and experience with students when visiting Wesleyan.

Ambitious and dedicated, but with a positive and cheerful manner, M. Elizabeth has amassed a remarkable film repertoire in a very short time. This is a testament to a great deal of hard work for a craft she passionately loves. She has carefully built relationships with actors, directors, and other film crew members and is well respected for getting the job done both efficiently and creatively. And so, for her pioneering spirit, for her creative and strong work ethic, for her distinguished accomplishments in the film industry, and for her unwavering loyalty to Wesleyan, the Wesleyan College Alumnae Association honors M. Elizabeth Hughes, Class of 2006, with the Young Alumna Award.