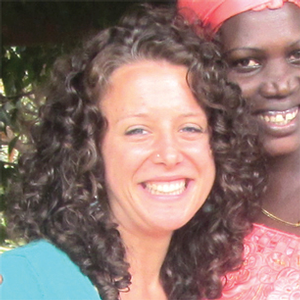 Missy Ward
Missy Ward Angalla Class of 2009
(The following article was written by Missy for the Winter 2012 Wesleyan Magazine)
I enrolled at Wesleyan in the fall of 2005 with great anticipation and a passion for helping and serving others. My years at Wesleyan helped give voice, shape, and direction to this passion. Coursework in political science, religious studies, and rhetoric exposed me to the dire state of women's rights in our world. I was especially shocked to learn how many women are sexually assaulted during wartime and how many refugees are trafficked or exploited in various ways. With these high levels of violence, it is hard to believe that there are relatively few resources for aftercare and healing. Instead, women are often blamed and sometimes ostracized from their communities.
I became even more aware of the complexities and statistics during the summers after my junior and senior years of college while interning as an English as a Second Language (ESL) teacher for refugee women from Afghanistan in Fremont, California. Now I am attending seminary at McAfee School of Theology, and I have had additional opportunities to teach ESL to East African refugees at a refugee community center in Kampala, Uganda. The experiences changed my life. These women are no longer a statistic or a news story - they are my students, my friends, and my family. We laughed, cried, learned, and walked through life together. They, like everyone else in our world, deserve to be treated as equals with complete dignity and respect.
I will never forget Claire, one of the first students I tutored in Kampala, Uganda. During my second week serving as an intern, Claire arrived as a new student to the center. She seemed eager and excited to learn but was very far behind the other beginning ESL students. Over the next month I tutored her for a few hours every day. Despite the language differences, we bonded. One day, just before we were about to start class, Claire handed me a letter that was translated into English. The letter explained that Claire's parents had abandoned her at the age of three years old, just as the war started in the Eastern Democratic Republic of Congo. Claire grew up as an orphan and was subjected to physical and sexual violence. She managed to get to Uganda and find a family to stay with, but they could no longer take care of her and she was afraid. In the letter she pleaded, "teacher, help me. I want a better education and better life. I want to be productive in the society where I live. Help me."
My heart absolutely broke for Claire. We sat together in silence, my hand in hers, and cried. As her teacher, I wanted to do something to help ensure that she found safety and the resources she needed. My search for these resources came up empty. Although there are advocacy organizations within refugee communities, there are none that assist in aftercare or provide shelter for refugee women and girls in violent or vulnerable situations. I quickly learned that Claire's situation is not unique. There are other students who are being abused, neglected, and orphaned and have no place to go. This abuse compounds an already grave injustice they are facing due to war, violence, and various oppressions within their countries. What an unimaginable crime that they continue to experience these tragedies in the very place where they seek peace.
Since the spring semester of my junior year at Wesleyan, it has been my dream to work with refugee women affected by violence in an area with no prevention or aftercare programs. I knew there were a number of challenges in following this dream, but I was a part of a larger community of sisters who encouraged and taught me how to dream big, work hard, and pursue my dreams. The empowerment of a Wesleyan education, coupled with my internship experiences, served to strengthen my determination to do something for these women and make a difference in their lives.
I have dedicated the rest of my life to ministering among refugee women and girls in East Africa. I am moving to Uganda in January 2013 and will serve on staff as the refugee women's advocacy coordinator with Refuge and Hope International. I will develop a response to assist women and girls like Claire who are in violent or vulnerable situations. This new ministry project will involve opening the first shelter for refugee women and girls in Kampala, Uganda; strengthening the education and vocational training initiatives for women at the community center; and self-help counseling, discipleship, and saving groups for women. This project seeks to holistically minister to female refugees by providing them with shelter, life skills, and community.