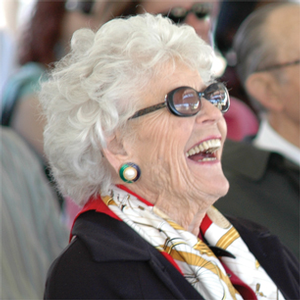 "Miss Julila"
Julia Temple Munroe Woodward '34
In the pantheon of Wesleyan alumnae, perhaps no one is more beloved than Julia Temple Munroe Woodward '34. Certainly Wesleyan has been blessed with a history of loyal alumnae and generous benefactors, but "Miss Julia" occupies a place all her own.

Julia Munroe, the daughter of Mary Frances Gray Munroe and Mark W. "Mr. Pat" Munroe, a Quincy, Florida, banker, was 16 years old when she arrived on Wesleyan's campus in the fall of 1930. During high school, Julia attended summer school so she could graduate early and enter Wesleyan with her older sister, Mary Gray. They were followed the next year by sister Margaret, and all three girls enjoyed a college experience that would make them loyal alumnae for the rest of their lives. Julia Munroe was a history major, but soon grew enamored of biology. She later recalled the first time she peered through a microscope and observed another world revealed through its lens. "I lit up like a Christmas tree!" She used all her elective courses to study science, an interest that would last a lifetime.

Shortly after graduation, Julia returned to Quincy, marrying Robert D. Woodward the next year. As their young family grew, Julia began the enthusiastic recruitment of local girls for her beloved alma mater. In 1948 Julia was recruited to serve as chair of the North Florida area for the Second Century Fund campaign. Launched by Wesleyan President Dr. Silas Johnson, the campaign's goal was to build the College's endowment. At the time Julia wrote, "Wesleyan took good care of me during my tender, most impressionable years," and she was determined to help secure a firm financial foundation for the College. Dr. Johnson was so impressed by Julia's execution of her duties as chair that in 1950 he asked her to serve on Wesleyan's Board of Trustees, a position she held for the next 34 years. She went on to serve as Trustee Emerita for another 26 years.

Julia never wavered in her enthusiasm for promoting Wesleyan. In 1974, for example, she issued a challenge to alumnae and parents of students that resulted in 626 new or increased gifts to the College. Her talent for recruiting students to Wesleyan became evident even earlier, and that remarkable gift has become her legacy. Three of her four daughters followed in her footsteps as Wesleyannes, but Julia spread the word far beyond her own family. For many years, it was said that if Julia's car was headed north, then she was most likely bound for Wesleyan with prospective students in tow. Described as a "one-woman admission office," she spoke of Wesleyan to girls in her church, members of her Girl Scout troop, the daughters of her friends, and the friends of her daughters. Over the years, Miss Julia's Girls, as these recruits were called, came to number in the hundreds and span the decades. Some came at her urging, paying their own way, and others she enabled to come by providing financial assistance.

Wesleyan Board of Trustee member Glennda Kingry Elliott '65, has been a friend of Miss Julia and her family since the age of 11 and remembers spending many nights at the Woodward home. While Glennda was accustomed to hearing Miss Julia talk about Wesleyan, she recalls thinking that there was no way she would ever go to a "girls' school." But when Miss Julia took her to Wesleyan for STUNT during her tenth grade year, Glennda was hooked. Now she says, "Miss Julia and Wesleyan changed my life and gave me the education, leadership skills, and maturity that shaped my life. She saw to it that I got through school financially and encouraged me all the way."  

Deborah "Quincy" Gardner Green '74 was in Miss Julia's Girl Scout troop and remembers that, when she was unsure of what college to attend, Miss Julia was a cheerleader for Wesleyan. "She kept up with me while I was at Wesleyan and afterwards. She greeted everyone with open arms, her famous smile, and her enthusiasm. She was tickled to know my nickname at Wesleyan was 'Quincy.'"

Lynn Lasseter Prater '87 knew Miss Julia through the local Presbyterian church and through scouting. She has a special memory of Miss Julia's hosting a camping trip at her farm. That evening some of Miss Julia's horses escaped. To the girls in their tents lit only by flashlights, the horses looked like monsters. "Miss Julia got a kick out of how scared we all were!" she recalls. Lynn remembers how Miss Julia loved to visit her when she was in town for Board meetings or other campus events. "She would come by my room and often brought a 'surprise.' She was great about sending mail and made a point to recognize my Wesleyan accomplishments."

Beth Kargel '91 was a classmate of Miss Julia's grandson and was actually introduced to Wesleyan by Miss Julia's daughter, Judy Woodward Gregory '63. Miss Julia provided the scholarship assistance that made Beth's Wesleyan education possible. Beth said Miss Julia once wrote a personal check so that she could attend May term instead of returning home. Beth remembers a special time she spent with Miss Julia in April of 1991. "Miss Julia and I shared an intimate morning together the day she lit my candle as I said the Benson Charge for the first time. She told me stories of her time at Wesleyan and said I was the first Quincy Girl to ask her to serve as Candlelighter. I was so lucky that she grew to be more than just my benefactor and that I was able to keep in touch with her through the years after Wesleyan. Her abundant, generous, and loving sprit was contagious." Like so many others, Beth always remembers Miss Julia's ready laugh.

Suzanne Spooner-Faulk '97, another Wesleyanne whose education was made possible by scholarship assistance from Miss Julia, has warm memories of seeing her on campus. "She would make a point of introducing me to her friends as one of her 'Quincy Girls,' and I would swell with pride. Being a Quincy Girl always made me feel like an honorary member of Miss Julia's family." Suzanne asked Miss Julia to be her Candlelighter and remembers the energy and enthusiasm she displayed that day. Suzanne presented her with a desk clock as thanks for making her an official Wesleyan alumna. "The next time I visited, Miss Julia made a point to take me to her bedroom and show me that she had put the clock on her bedside table. I was beyond touched." A high point for Suzanne was when she introduced her fiancé (now husband) to Miss Julia. "I was so happy that she approved and adored him. It ranked right up there with getting my parents' blessing. We both left that night with Miss Julia's lipstick kisses on our cheeks."

Suzanne echoes the sentiments of so many when she says, "I would not be who or where I am today if it were not for Wesleyan, and I would never have had that opportunity were it not for Miss Julia. Not a day goes by that I don't think of her and give thanks to her."

Glennda, Deborah, Lynn, Beth, and Suzanne are representative of the scores of women who were Miss Julia's Girls, women whose lives were changed and who are themselves now changing lives because of the influence of their beloved mentor.

If her contribution to the College had only been Miss Julia's Girls, hers would be a legacy unmatched in Wesleyan history. However, her commitment year after year to the recruitment of new students and to their scholarship support is only part of the story. Miss Julia championed a seemingly endless number of other Wesleyan causes. In 1963, when she and her extended family first established an endowed fund, she wrote: "We know that big oaks from little acorns grow, and therefore in faith we will start the fund, hoping through the years to be able to increase it to adequate size." Those little acorns grew indeed, with Munroe funds now providing for two endowed teaching chairs, the Munroe Scholars Endowment for scholarships and research stipends, and the lead gift for the Munroe Science Center.

In addition, Miss Julia generously supported projects begun by others, such as the Summer Leadership Institute. She was also a major donor for the new Pierce Chapel. Her love for Wesleyan knew no bounds, and her interests were wide-ranging.

Among her greatest gifts to Wesleyan are her three daughters who became alumnae: Mary Margaret Woodward McNeill '60, Judy Woodward Gregory '63, and Susan Woodward Walker '70. These women are loyal Wesleyannes who carry on their mother's devotion and service to their alma mater. Judy currently serves on Wesleyan's Board of Trustees, and Susan is immediate Past President of Wesleyan's Alumnae Association.  

Miss Julia was honored by Wesleyan's Alumnae Association with the award for Distinguished Service to the College (1974) and the Valeria McCullough Murphey Award (1999). Wesleyan awarded her the degree of Doctor of Humane Letters in 1984. In 1994, on the occasion of the 60th anniversary of her graduation, she was honored with a party attended by dozens of Miss Julia's Girls. On that occasion, the Coca-Cola Foundation made a significant gift to the College in Miss Julia's honor for scholarship support for students from the Gadsden County area. In a note thanking the College for the event, she refused to acknowledge any exceptional achievement on her part. She wrote simply: "I've just been plugging away for the Wesleyan I love."  

Miss Julia was the subject of several tributes during Alumnae Weekend in April this year, the theme of which was "Uncommon Women on Common Ground." In her remarks to the graduating seniors and alumnae at the Association's annual meeting, President Ruth Knox called Miss Julia "the most uncommon Wesleyan woman of them all" and posed the question: "Who will be our next Miss Julia? The answer is, of course, that no one of us can take her place. She was indeed uncommon. But together we can continue to love Wesleyan and support Wesleyan with our time, our example, our gifts, our recruiting efforts, and our prayers. We can never replace Miss Julia, but we certainly can do our part to honor her legacy and to ensure that Wesleyan continues to stand for all that she held dear – First, Best, Always."

The Wesleyan College community expresses our enduring love, respect, and appreciation for Julia Temple Munroe Woodward and her remarkable life.