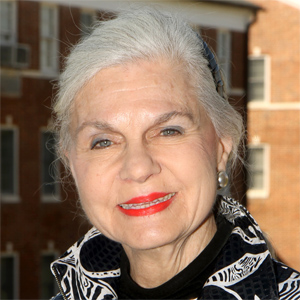 2013 Winner, Distinguished Service to the Community
Lucia Hutchinson Peel Powe, Class of 1953
"You owe it to the world to give to others the best that is in you." Lucia Hutchinson Peel Powe '53 has spent her life living by this principle taken from Wesleyan's Benson Charge. Whether teaching, writing, acting, singing, raising her family or volunteering – she has always given the best of herself. With endless passion and contagious vitality, she has generously shared her remarkable gifts to help transform each of the communities she has called home.
Always one to be involved, even as a student at Wesleyan Lucia volunteered on the newspaper staff, Glee Club, Student Christian Board, and the Social Standards Committee. In her senior year, she had the honor of being crowned Miss Georgia. After graduating from Wesleyan in 1953 with degrees in speech and drama, Lucia dabbled in television, hosting the show Open House based in Columbus, Georgia. As an alumna volunteer, she served early on as a Wesleyan field representative and recruited students. She also helped organize the Chattanooga Alumnae Club. Most recently, Lucia helped found the North Carolina Triangle Alumnae Club in 2010.

Lucia's interest and volunteerism in child advocacy and education began when she served as director and teacher for an Easter Seals day camp in Atlanta, and widened even more after she became certified to teach. In 1955, she continued to educate children when she became "Miss Lucia" on the syndicated television show Romper Room, that aired in the Greenville, NC, area.

While raising four daughters, Lucia still managed to perform, teach, volunteer, and make a difference in her community. An active member of her church, she served as choir director for both adults and youth, offered singing lessons for free, and wrote and directed a production for the 75th anniversary of the church. She led four different Girl Scout troops for her daughters, and was active in the Woman's Club, The Roanoke Historical Society, and The Music Club, serving terms as chairman or president. As founder of The North Carolina Symphony Society of Martin County, she continued to promote music education for children by bringing symphony performances into local schools.

The scope of her service for a myriad of organizations is far reaching. On a state level, Lucia has served on the boards of the NC State History Museum, NC State Art Museum outreach, NC State Symphony Society, and the Save the Hatteras Lighthouse Project. After losing her husband to cancer, she sat on the board of the Lineberger Cancer Research of UNC-CH for 24 years. As an author, she has written one novel, Roanoke Rock Muddle, and is one chapter away from completing her second novel.

Currently, Lucia's energy is spent as an inspirational board member raising funds, awareness, and building community connections for KidZnotes. She was instrumental in creating this educational program that provides classical music training to at-risk students in the Durham area. In its third year, the program now serves more than 200 students.

Lucia's extensive service to others has impacted many and, in 2012, she received the North Carolina Governor's Award for Volunteer Service. For her lifelong dedication to her beloved communities and organizations, for leading by excellent example, and for remaining a loyal alumna to Wesleyan, the Wesleyan College Alumnae Association presents Lucia Hutchinson Peel Powe with the Alumnae Award for Service to the Community.