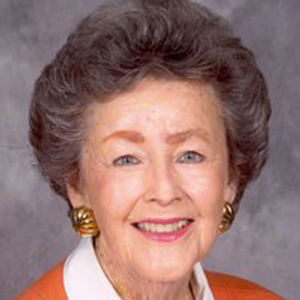 Louise Futrelle Dodd
Louise Futrelle Dodd Class of 1949
 The forward of the late Louise Dodd's cookbook sums it up: "With a Southern drawl as slow as the cane syrup that Georgians pour on their biscuits, Louise is fiercely loyal to her native Georgia. She grew up under the tutelage of good cooks, her mother and grandmother and aunts, and has written, sometimes comically, about many of her small town experiences." 
Louise Futrelle Dodd '49 spent her childhood in Guyton, Georgia, a small town of nearly 2,000 people located twenty-five miles north of Savannah. At the young age of sixteen, she enrolled at Wesleyan College. In 1950, she married and moved to Wrightsville, Georgia, where she lived for thirty-five years. Her husband practiced medicine and together they reared two children. Louise began her writing career with The Courier Herald in Dublin where (over the course of twenty-five years) she became an award-winning writer and the creator of a weekly food column,From the Kitchen of Louise Dodd. In 1986, she moved to Macon and began writing for Macon Magazine.
During a career spanning four decades, Louise wrote more than fifteen hundred food columns and, along the way, she dined with Jimmy Carter in the White House, Bill Clinton in Arkansas, Gladys Knight at her desert home in Las Vegas, Nancy Reagan, Barbara Bush, Willard Scott, and many other high profile people. She even dined with Sheriff Ray Wilkes in the Bibb County Jail. This extraordinary range of dining experiences led to her 2004 cookbook, Eating from the White House to the Jailhouse.
Bending the recipe, Louise blends the genres of memoir and travelogue into her unique cookbook. On page 79, Louise shares the recipe of Mrs. McAfee's Wesleyan Dressing, first writing: "When I was in college, there was a charming little brick building across the road from the college entrance gates. Called The Pharm, and run by one of the finest cooks in the world, the spot was a favorite destination for college girls who were always hungry. Mrs. McAfee had so many special recipes, but this is the only one that has endured the passage of years (in my possession anyway)."
Readers devour the fascinating stories that complement Louise's recipes, like traveling and dining in New York, Brussels, Luxembourg, London, Dublin, Ireland, and Paris. Her adventure of judging the world's most famous barbecue contest held along a mile of the Mississippi River in Memphis sets the stage for one recipe. While her experiences judging Georgia's Barbecue Contest in Vienna, the Big Pig Jig, and other contests in schools and churches add spice to her many concoctions.