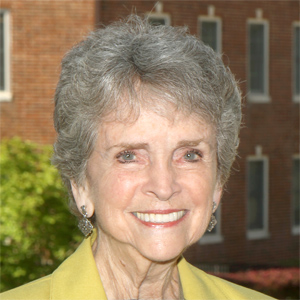 2013 Winner, Distinguished Service to the Community
Kathryn Parsons Willis, Class of 1953
Perhaps being the middle daughter of community business leaders was the spark that inspired Kathryn Parsons Willis to find her path into the realm of service to others. Long before the term "servant leadership" became popular in our vernacular, Kathryn was devoted to improving life in Gwinnett County, particularly in her hometown of Duluth, as her way of thanking those who had blessed their Parsons Family Store so abundantly over the years. And over the years, she has made it all seem quite easy.
Kathryn came to Wesleyan in the fall of 1949 following the graduation of her older sister, Margaret in 1947. She finished Wesleyan with a degree in psychology in 1953, completing her senior year as a young bride. According to the Veterropt, Kathryn could "go all semester without appearing to crack a single book and still came up with all A's."

After graduation, Kathryn returned to Duluth where she combined a career in the retail business with being a wife and the mother of five children. As the Parsons Stores evolved from a dry goods store to three successful stores selling gifts and collectibles, Kathryn always played a key role. She retired a couple of months ago after working full time for 61 years. Was it easy? Probably not, but she always made it appear so.

One wonders, then, how Kathryn found time to become a tireless advocate, fundraiser, board member, and community volunteer. Kathryn served on the Gwinnett Medical Center Board for 22 years, chairing its Legacy Circle and overseeing the Foundation's annual auction. She was awarded the Foundation's first Distinguished Service award and received the 2012 Legacy Award when she retired from the GMC Board. In addition to service on the Hospital Board, Kathryn is credited as a founder and motivating force behind the Duluth Fall Festival, a 30-year annual event that now attracts between 80,000 and 100,000 people to the Duluth Town Green for two days each September and raises funds for community improvements. The festival's co-chairman regards Kathryn as the perfect role model for a young person, saying it is an honor to know her and work beside her in her many endeavors.

Duluth First United Methodist Church benefited from Kathryn's leadership as well. As a member of the building committee when the sanctuary was built in 1990, she was concerned that there was not enough money to include stained glass windows in the construction. Kathryn asked for permission to raise the funds needed and the building was built with 38 beautiful stained glass windows – a statement to her resolve. The Community Foundation for Northeast Georgia describes Kathryn as one who "sees the big picture while others would dwell on the minute; who understands the need for collaboration where others would compete; who takes action where others would merely discuss; who creates relationships where others would divide." And in spite of routine challenges, Kathryn has made everything seem effortless to those who watch her serve.

Kathryn hopes that her greatest legacy will be passing the torch to ignite in her children the same devotion to charitable work that she received from her parents. For outstanding service to the community she loves and for representing her alma mater well in everything she undertakes, Wesleyan College presents the Distinguished Service Award to Kathryn Parsons Willis.