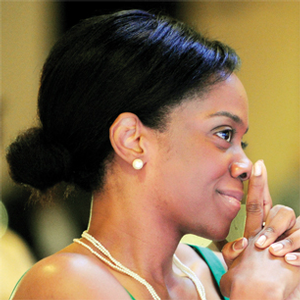 Karan Kendrick
Karan Kendrick EMBA Class of 2010
 As a business owner with a lucrative movie career on the rise, Karan Kendrick decided she needed a better understanding of business matters and how to manage money in an efficient and sustainable way, so she enrolled in Wesleyan's Executive MBA program. A 2010 graduate of the program, Kendrick said, "I needed to understand the business side of show business, and how the money works. I have to know how to negotiate and what to expect from residuals. Actors get paid for the work they do, but their real salaries depend on the residuals," she said.
Kendrick's acting career began with a preschool show where the song called for children representing a certain color to stand up. Kendrick was orange. As a child she was a ballerina, and at home there were always songs, dancing, and plays to put on for her family. In a more recent role, Karan stars as Atala in the movie The Hunger Games, which premiered Friday, March 23rd, took in $152.5 million at the box office its opening weekend, and was number one at the box office for four consecutive weeks. The movie is set in a post-apocalyptic world where every year young people must compete to the death in an event called The Hunger Games. Kendrick's character is a trainer who welcomes the twenty-four tributes chosen to compete and then explains to them about the different stations set up around the training center.
Kendrick attended a screening of the movie in California and walked her first red carpet. She hired a stylist and bought a glamorous dress, and said she wanted the people back home to be proud. She worried she might not have made the cut in the final editing of the film, but when Kendrick came up on the screen, her college friend and guest at the screening nudged her throughout the whole scene. Karan's character appears in the second book in the Hunger series, but she doesn't know yet whether that will translate into a role in the next movie.
Kendrick has been busy building quite an acting resume. She appeared in Tyler Perry'sMadea Goes to Jail and starred in Lifetime's 2010 film The Wronged Man. She has an impressive repertoire of television experiences including roles on Lifetime Television'sDrop Dead Diva and Army Wives. Kendrick has roles in three movies set to be released in 2012: The Odd Life of Timothy Green, a Disney film starring Jennifer Garner and Dianne Wiest (due out in August), Parental Guidance starring Billy Crystal (set to be released on Christmas Day), and Little Red Wagon (which has not announced a release date). In addition to television and film roles, Karan is an accomplished theater actress.
After high school, Kendrick went to Spelman College in Atlanta, where she received a bachelor's degree in drama and dance. Kendrick is owner and director of The Kendrick Academy in Fort Valley, where she teaches drama, theatre, and dance to ages three to adult. The Academy is an arts organization that, according to its website, "serves to enrich the lives of its students, and the community that we serve, through the fine and performing arts."
At an event at Fort Valley's Austin Theatre, Fort Valley Mayor John Stumbo proclaimed Thursday, March 22, 2012, as Karan Kendrick Day. Nearly a dozen people, from family members to former teachers, took the opportunity to talk about the actress and share memories of her growing up. Family friend Darrell Fobbs predicted Kendrick will be nominated for an Oscar. If that dream becomes a reality, Kendrick joked that she already has her speech planned for the Academy Awards.
Later in the evening on Kendrick Day, more than 900 people flocked to the Houston Lakes Stadium Cinemas in Kathleen, Georgia, for a midnight premiere of The Hunger Games, and Karan made a special appearance. Avid fans, some dressed in character, brought inThe Hunger Games books, movie books, and tickets for her to sign. 
According to Kendrick, being an actor is actually very much like any other career in that "you study, you train, you get a job, and hopefully that job leads to another opportunity." Kendrick claimed most of her work is actually working to get work, and she has an agent to help her. "Whatever you are doing, do the best you can, network, and build a good reputation. Show business is a business. Having talent is good, but the bottom line is people need to know they can count on you. That you'll be on time and be prepared," she said.
Though Fort Valley is home, Kendrick says she's living out of a suitcase these days. She spent a year, February of 2011 to February of 2012, in New York and then headed to Los Angeles for the red carpet.
"Mine has been a very charmed and blessed life," she said. "I feel like it's just getting started."
Special thanks to Angela Woolen and The Telegraph.