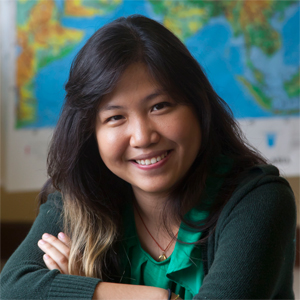 Diep Nguyen, a Five Faces of 2014
Diep Nguyen, Class of 2014
The first person in her family to pursue an education abroad, Diep came to Wesleyan from Hanoi, Vietnam. She did not have the chance to visit Wesleyan before she arrived as a first year student, but after a few days of lectures and joining in campus activities, she knew she had made the right choice.

In 2009, Diep attended a year of high school at Porter-Gaud School in Charleston, South Carolina, under the ASSIST (American Secondary Schools for International Students and Teachers) scholarship. Each year, thousands of Vietnamese high school students compete nationally for an ASSIST scholarship, which is usually awarded to only five or six students. At Wesleyan, Diep received an International Scholarship, majoring in international relations and minoring in photography. She earned her way onto both the President's and Provost's Lists, was a member of Phi Kappa Phi, and earned Honors in an Academic Discipline, International Relations Division. Diep was the recipient of the Louise Dunaway Burt Photography Award in 2011, a member of AXIS (serving as historian and vice president), STUNT, the debate team, and Splinters. She was editor of Wesleyan Word her senior year and served as astaff writer and photographer for threeyears, was a work study student for theCenter for Creative and Performing Arts,and she also interned with Knight FrankVietnam, Ltd. as a marketing assistant andwith Vietnam Television – Department ofForeign Affairs as part of the editorial stafffor political and business news.

Each year, the Irish-American Scholars Program allows Wesleyan College to nominate up to three students to compete nationally for a direct exchange program in Northern Ireland. A committee of representatives from five schools in Northern Ireland reviews the materials submitted by each applicant and makes its decisions for placements. In the spring of 2013 Diep attended Queen's University, Belfast, one of the leading public research universities in the United Kingdom.

This summer, Diep will return to Vietnam to begin her fifth year with the non-profit organization Educational Programs for Vietnamese Students, where she will supervise English leadership summer camps for underprivileged children. She also hopes to find an internship in journalism or at the Department of International Cooperation. Diep has been accepted to her first choice graduate program at The Graduate Institute of International and Development Studies in Geneva, Switzerland, where she will continue her studies this fall.