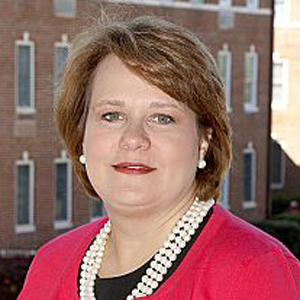 2014 Winner, Distinguished Service to Wesleyan
Deborah Stevenson Moses, Class of 1989
As soon as she arrived on campus in 1985, Deborah Stevenson Moses fell in love with Wesleyan College. Twenty-five years later, the mutual love affair continues and Debbie is widely recognized as an exemplary alumna leader who inspires her classmates and others to follow in her footsteps.

Debbie's first year at Wesleyan was also the College's Sesquicentennial Anniversary. Debbie convinced Macon's local ABC affiliate to film 20 Wesleyan students shouting "Good Morning, America" and the spot aired on national television during the Good Morning America show. An English, history, and political science major, Debbie was named Wesleyan Woman of the Year in 1989 and received the Alumnae Association's Scholarship for Leadership award in 1987.

After graduating from Vanderbilt University Law School, Debbie joined the firm of Miller & Martin in Chattanooga, Tennessee. In 1995, she moved to Atlanta to accept a position at the firm that would become Hall, Booth, Smith & Slover, best known for medical malpractice defense. Four years later, Debbie was named the firm's only female partner. Through this practice, she began representing Piedmont Hospital, now known as Piedmont Healthcare, which is comprised of five hospitals and employs approximately 400 physicians. In 2007, Debbie accepted the position of Director of Claims & Litigation at Piedmont Healthcare and continues to manage all claims and litigation related to the organization and its employees. She also serves as legal counsel on risk related issues.

In 1995, Debbie accepted the Wesleyan College Alumnae Association's Member-at- Large for Nominations position on the Board of Managers. Since then, she has held several positions on the Board, including President (2003-2006). She served also as President of the Atlanta Alumnae Club and twice as class liaison. Debbie assisted in planning the Inauguration for Ruth Austin Knox and was selected as the Baccalaureate Marker Ceremony Speaker in both 2005 and 2013. As a current Trustee of Wesleyan College, Debbie continues to provide wisdom, leadership, and support for her alma mater.

Debbie's parents placed a high value on her education and in 1997 established the Debbie L. Stevenson Endowed Scholarship Fund to honor their daughter and assist other promising Wesleyan students. Debbie continues to support this scholarship and attends Wesleyan's annual scholarship luncheon to personally meet with her scholarship recipient. Debbie made her first gift to Wesleyan the year following her graduation and now is recognized for her loyalty as a Stanback Society donor and a member of the Society for the Twenty-first Century.

Described by her many friends and classmates as steadfastly loyal and outstanding in every way, it is notable that Debbie includes kindness in everything she does. Her gifts to Wesleyan are always as a tribute to others, telling the story of faculty members she has respected, Wesleyan friends she has loved, and others who have touched her life in meaningful ways.

For her loyalty to Wesleyan, for her readiness to advance the College's mission on all fronts, and for her faithful service to strengthen her alma mater, the Wesleyan College Alumnae Association honors Deborah Stevenson Moses with the Award for Distinguished Service to the College.