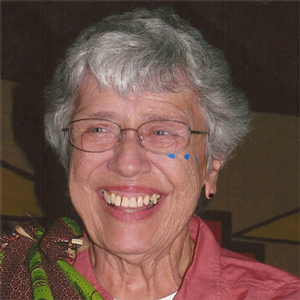 Boma dinner in Johannesburg South Africa in November 2010. The blue marks were painted on by the Africans.
Carla Frances DuBose Kalec '57
 An interview with Carla Kalec:

What brought you to Wesleyan? I was considering a couple of colleges, but my cousin (Joann Copeland Chapple '56) was already a freshman at Wesleyan and she suggested I come check it out. I liked Wesleyan, applied, and was accepted while I was in my junior year of high school.

What was your Wesleyan major? I was a pre-med major at Wesleyan, and art history was my minor. I am glad I didn't just stick to the sciences, but broadened my education with other disciplines that Wesleyan had to offer.

When did you know you wanted to become a physician? I honestly don't remember when I decided to become a doctor. I was interested in medicine, but thought I could perhaps become a medical technician. I didn't know any female physicians. The only other physician in my family was an MD on my mother's side of the family, in England in the 1700's.  

During my junior year at Wesleyan I decided I would apply to medical school. I took the MCAT (Medical College Admission Test) when it was given at Mercer, and was the only girl taking the test that day. I wanted to apply at Duke, but it was too expensive, so I applied to Bowman Gray, Emory, and the Medical College of South Carolina. When I was a senior at Wesleyan I had my interview at Bowman Gray, then Emory, and neither seemed interested in admitting a female. I hadn't heard from the Medical College of South Carolina at all. I decided I had better plan for a career. I heard about a job in cancer research at Sloan Kettering in Birmingham, Alabama. I applied and went for an interview. They hired me, so I went back to Wesleyan to finish my senior year, expecting to go to Birmingham after graduation. Then I received a call from the Medical College of South Carolina requesting an interview. They told me not to get my hopes up because they had already chosen eighty percent of the class. One week later they called and welcomed me to the entering class of 1957. I cancelled my Alabama job and went to Charleston. I earned my M.D. in 1961 and the rest is history.

Were there other women in your class?  There were eighty members in my medical school class and six of us were girls, a first for the medical school since they had only ever had two girls in a class. They indicated that in their experience half the females in a class dropped out, so they expected that three of us would not finish. To their surprise, all six of us finished. At the end of the first year of medical school I went home for the summer and waited for a letter saying whether I passed or failed my first year. The letter finally came and I made my father open it. It read "Congratulations!"

Where did you do your residency? Tampa, Florida. I applied only to Tampa General Hospital (TGH). I was one of six who matched with TGH that year. After the internship, I received a surgical residency at TGH and was the FIRST female ever to be given a surgical residency there. I requested OB/GYN and was accepted. I was the FIRST and only female OB/GYN resident at Tampa General. After completing my training at TGH I went into private practice (1965), and was the FIRST female to practice OB/GYN in Hillsborough County. During my first years I saw patients who hadn't seen a physician in as many as twenty-five years because they only wanted to see a female. I delivered about 3,000 babies during my career and did a lot of surgery.

What has been your most gratifying experience as a doctor? One of the biggest rewards of practicing obstetrics is to see the joy on a woman's face as she sees her newborn for the first time. Also, to meet someone in the grocery store and have her ask, "Do you remember me? You delivered my baby forty years ago."

In 1974, twenty-six physicians and I decided to build a hospital just for women. We bought the land, built the hospital, and ran it ourselves until we sold it to Humana. In 1993, St. Joseph's Hospital bought it from Humana and renamed it St. Joseph's Women's Hospital. Today, it is the premier hospital in Tampa! It is also the only free-standing women's hospital. I continue to serve there as a volunteer.