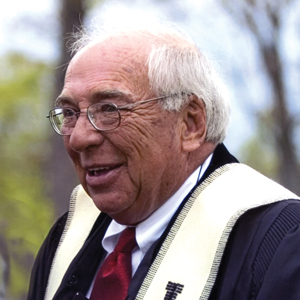 Bill Powell, Class of 1959
On Tuesday, May 28, 2013, hundreds gathered at St. Luke United Methodist Church in Columbus, Georgia, to mourn the loss and celebrate the life of the Reverend William Oliver Powell, who had served more than fifty years in the South Georgia Conference of the United Methodist Church. While friends shared stories of this much beloved,larger-than-life personality, few knew his unique place in Wesleyan history. Powell was a graduate of Wesleyan, a rare distinction for a man, and College records indicate that Bill Powell was one of only three men ever to graduate from Wesleyan with a bachelor of arts degree.

Powell was a junior at Emory University in 1956 when his father died suddenly. With his mother and younger brother to care for, Bill had to withdraw from Emory. Methodist Bishop Arthur Moore came to the aid of the family and arranged for Bill to receive an appointment as pastor of Northside United Methodist Church in Warner Robins, Georgia. Bishop Moore, who had in 1941 served as interim president of Wesleyan College, also worked with President Joseph T. Martin to have Bill admitted to Wesleyan's school of liberal arts. (At the time, men were allowed to earn Wesleyan degrees only in the fine arts). Bill Powell received his degree in English from Wesleyan College in 1959, all the while pastoring the church in Warner Robins.

A classmate and fellow English major, Carmen Moore, now Carmen Jackson, repeatedly encouraged Powell to ask out her friend Sylvia Anderson, another member of the Class of '59. Between his studies and his pastoral duties, Bill found the time for a date with Sylvia, and the two never looked back. Sylvia and Bill graduated in May 1959 and married in October of that same year. Being husband and wife Wesleyan graduates was a story in itself, but the Powells were not finished making Wesleyan history. Their three daughters, Libbie Powell Key '85, Billie Powell Flowers '86, and Christy Powell Garner '90 became Wesleyan alumnae as well, an entire family of Wesleyannes – and one Wesleyandy!