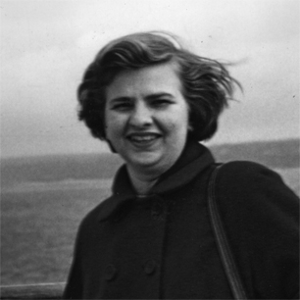 Betty Thompson
Betty Thompson Class of 1947
In 1994, the United Methodist Association of Communications (UMAC) saluted Betty Thompson '47 as their Communicator of the Year. Appearing on videotape in her native Georgia while recovering from knee surgery in New York, Betty had actually received the top UMAC award two weeks earlier. She was presented the award while in her New York office by retired New World Outlook Editor Arthur Moore and against the backdrop of an enlarged World Outlook magazine cover. That was fitting because, for twenty-two years from 1965 to 1987, Thompson was responsible for publishing both New World Outlook and Response, the mission magazines of The United Methodist Church.
In truth, Betty Thompson is much more than the communicator of a single year. She was a prophetic force in religious journalism for more than four decades. Before her retirement at the end of 1994, she gave thirty-five years of distinguished and dedicated service to the General Board of Global Ministries (GBGM). After her retirement, Betty continued to garner recognition. In 1998, The World Association for Christian Communication designated her a life member. And, in 2001, she was inducted into the Methodist Communicators Hall of Fame.
Growing up, Betty's main pursuits were reading and writing. She attended Wesleyan, her mother's alma mater, and graduated cum laude in 1947. As a Wesleyan undergraduate, she edited the College paper and was a correspondent for the Atlanta Journal Constitution and The Macon Telegraph. After graduation, she remained on campus for two years and served as Wesleyan's public relations director. 
She left to pursue graduate study in literary criticism at Kenyon School of English in Gambier, Ohio, where she was a Rockefeller Scholar.
Beginning in 1950, as a young journalist arriving in New York fresh from graduate school, Thompson worked five years as staff writer for the Methodist Board of Missions – at a starting salary of $3600. From there, she worked almost a decade with the World Council of Churches (WCC), where her career launched. As a WCC information officer from 1955-56, Betty traveled to Geneva, Switzerland, and wrote articles that were published throughout the world. She returned to New York in 1956 and served as the WCC public relations director until 1964. In that role, she initiated public relations projects, advised on network television shows, and authored hundreds of magazine and newspaper articles (including a TIME magazine cover story).
She rejoined the GBGM in 1965. There, as an executive of United Methodism's largest general agency, Betty served first as assistant general secretary for communications (1965-74) where she headed a publishing operation that produced 300 titles a year, hard cover and paperback, with annual sales of $1.5 million. Later, she served as associate general secretary for Mission Education and Cultivation (1974-87) where she managed a budget of five million dollars, directed two monthly magazines, and raised thirty-four million dollars in designated gift programs annually.
In her final role, as director of public relations (1987-1994), Betty was chief spokesperson for the agency with an annual budget of $100 million and work in one hundred countries. In her public relations role, she often found herself plunged into controversy, with little or no warning; yet her reconciling spirit and sparkling wit were highly effective at clearing up confusion and turning away wrath.
Two months before her 1994 UMAC award, Betty Thompson received another signal honor. She became only the fourth person in twenty-eight years to win the William B. Lipphard Award – the highest honor the Associated Church Press (ACP) can bestow – for distinguished service to religious journalism. Thompson also was the first woman to be appointed editor-at-large of The Christian Century.
Betty Thompson has performed throughout her career on a world stage. "I knew Mother Teresa before she was a star and Desmond Tutu before he was a bishop," she noted in her Lipphard acceptance speech.
Former WCC General Secretary Philip Potter has praised Thompson "for her firm and radiant Christian faith, her astute and sensitive analysis of issues on the basis of that faith, and her capacity to write well and truthfully." The GBGM's Director of Production, Promotion, and Design Roger Sadler observed that "her integrity and sharp insight have shaped the church's view of mission." Arthur Moore noted that "her role in encouraging and supporting talent is legendary." 
Others have praised Betty for creative genius, support of innovation, and in-depth knowledge of the ecumenical church world. At the Lipphard Award luncheon, Leon Howell – editor of the no-longer published Christianity and Crisis – summed up by citing "the personality, the character, the presence, the sense of humor, the wit that punctures pomposity and pretense, and the courage that lets her speak out when others might hold back."
In her Lipphard speech – noting the change between the 1950s, "when print was still dominant and religion played a prominent part in the culture and on the front pages," and the present – Thompson observed: "Despite continuing declines in church attendance, all polls report that a stunning ninety-five percent of all Americans believe in God. The part religion plays in the daily life of most Americans is rarely reflected in film or video, on TV, or in the 1500 daily newspapers. As the traces of religion disappear from the mass media and the culture, the task of church communicators becomes more challenging."
Betty Thompson set the standard for meeting the challenge with unflinching courage, uplifting spirit, and abiding faith. She is author of three books: The Healing Fountain, A Chance to Change, and Turning World: An Ecumenical Journey. Her third book was published in 2009 and chronicles her journey through life. Generously, Betty has decided to donate her personal papers to Wesleyan.
Special thanks to the General Board of Global Ministries of The United Methodist Church for granting Wesleyan College permission to update and reprint this article, originally written by Alma Graham and printed in the January-February 1995 issue of New World Outlook Magazine.