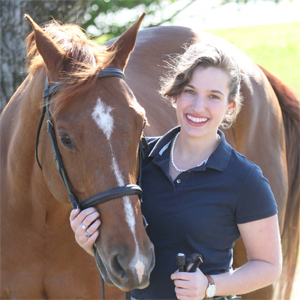 Beth Hurst, a Five Faces of 2014
Beth Hurst, Class of 2014
Beth made her first visit to Wesleyan's campus on a whim. She was passing by on her way to Florida and remembered being interested in mail she had received from the Office of Admission, so she decided to stop and have a look around.

"I fell in love with the beautiful campus immediately, and when I learned about Wesleyan's equestrian and music programs, I was sold! Wesleyan just felt right."

Beth competed with the equestrian team all four years at Wesleyan, serving as team captain her junior and senior years and as Equestrian Club treasurer. A Wesleyan Disciple, Beth was music chair her sophomore and junior years and performed with the Wesleyannes, Concert Choir, and Washboard Band. She was involved with STUNT and served as Lead WAVE member, Orientation Leader, and Summer Conference Assistant.

The recipient of several prestigious scholarships, including Marian and Paul Anderson, Wesleyan Merit, and Hannah L. Allen, Beth earned her place on the President's and Provost's Lists, was named Who's Who Among Students in American Universities and Colleges and received the Equestrian Team Coach's Award. As a music major, Beth enjoyed tutoring students at the Georgia Academy for the Blind. At Honors Day in April, Beth was presented the Doris O. Jelks Prize for Honors in an Academic Discipline, Fine Arts Division.

Having a keen interest in the dynamics of a globalized society, Beth minored in communication with intent to work in the field of intercultural communication and eventually become a professor. Beth's first step in this direction is to spend a year after graduation as an au pair in Germany, to become fluent in a second language and gain experience living outside the United States. "I am so excited to be working with a family that is musical. Both parents are musicians, the mother is a music professor, and the family attends concerts regularly. Not only do I get this awesome opportunity to experience Germany, but I will be able to continue developing as a musician, which is something that I hope to do my whole life."

Beth has been accepted at her first and second choice graduate programs and will enter the University of Tennessee's communication and information doctoral program in the fall of 2015.