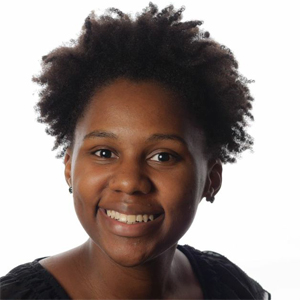 Ahlee Day, a Five Faces of 2014
Ashlee Day, Class of 2014
Growing up in Snellville, Georgia, philosophy major Ashlee was a great admirer of Martin Luther King Jr., Mother Teresa, and Gandhi. Today her list has grown to include leaders like President and First Lady Obama and Malala Yousafzai. Inspired to forge her own unique path in the world, Ashlee plans to combine the leadership skills she learned at Wesleyan with her passion for education to advocate for others and teach them to advocate for themselves.

"I like to tell people my number one hobby is learning," Ashlee stated, "but I don't want to use what I have learned just to improve my personal life. Education can revolutionize the world, open minds, and be a tool for community building. I have a lot of high-minded ideals. I want equality and justice for all!"

In high school, Ashlee watched her sister Faithe '13 flourish at Wesleyan and liked the opportunities a small liberal arts college could offer. "I saw a chance to become a better leader, student, and person. I knew Wesleyan was the place for me."

As the recipient of two prestigious scholarships, Findlay and Lettie Pate Whitehead, Ashlee has indeed made the most of her Wesleyan experience. Her name has regularly appeared on the President's and Provost's Lists. She is a member of Alpha Lambda Delta, Pi Gamma Mu, and Phi Kappa Phi honor societies, and won the Philosophy Department Award for Outstanding Achievement. Her campus activities included Black Student Alliance, Mortar Board, and the Council for Judicial Affairs for four years, serving as chancellor her senior year. She was selected as Head Junior Marshal and SGA Senator and participated in Summer Leadership Institute 2013, Wow! A Day for Macon, class soccer, and STUNT. She also was a Writing Center tutor, a staff writer for Wesleyan Word, and listed in Who's Who Among Students in American Universities and Colleges. Ashlee received Honors in an Academic Discipline for both Philosophy and The Writing Center and was voted Wesleyan Woman of Success.

Ashlee said that Wesleyan challenged her to become more adventurous, to expand her horizons, and to establish herself as a leader, but her deepest passions have not changed. She still intends to pursue a career in education either as a college professor or by working for an organization that supports education. After graduation Ashlee will dedicate a year to Americorps Corporation for National and Community Service.