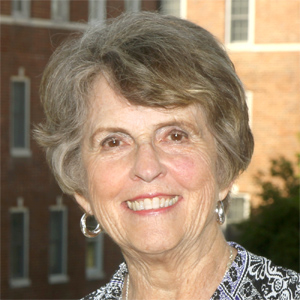 2013 Winner, Distinguished Service to the Community
Ann Parsons Odum, Class of 1954
If Ann Parsons Odum's life were depicted in one of her paintings – what would we see? The scenes would reveal a colorful life overflowing with passionate devotion to her family, friends, church, and beloved hometown of Duluth, Georgia. For the past 40 years, Ann has dedicated a significant amount of time to preserving the history of Duluth through her artwork. A friend said, "Everything Ann has loved in life centered on Duluth."
Born and raised in the town that her great- great- grandfather founded, Ann has a keen sense of the history of Gwinnett County and Duluth. The Parsons family has owned and operated stores in the area since 1925 when her parents opened the first store. At an early age she and her sisters, Margaret (Class of 1947) and Kathryn (Class of 1953), began working in the family store. Following in her sisters' footsteps, Ann graduated from Wesleyan with a degree in education in 1954, but not before leaving her own mark – she served as Editor of the Veterropt, was chosen as a Senior Superlative, and formed friendships with classmates that have lasted over 60 years.

Since graduating from Wesleyan, Ann has become an accomplished and well respected artist drawing inspiration for many of her paintings from the historic landmarks and beautiful landscapes of Duluth. Through the years, Ann watched her small rural community blossom into a bustling suburb of Atlanta, while at the same time many historic landmarks and landscapes vanished. Thanks to Ann, the rich heritage of Duluth is not lost, but saved on canvas. She recently published a book, Duluth, Georgia: Through the Eyes of One of Its Own, that is a wonderful collection of 90 paintings combined with stories about the people, places, and scenes of her life.

As a juried Member of Excellence in the Southeast Pastel Society, Ann has won numerous awards both locally and internationally. Throughout her career other recognitions have followed – she received the first "Art Works Gwinnett" Lifetime Achievement Award and was selected best artist in Gwinnett County in 1989. Style magazine featured her accomplishments in recapturing Duluth landmarks, and the Suwannee Kroger chose her to display 18 large-scale replicas of her paintings depicting local scenery. In addition, she has painted the covers for the Duluth Fall Festival tabloid for the past 30 years.

Ann's commitment to her community extends to other areas as well. An active member of Duluth First Methodist Church for more than 50 years, she has sung in the choir, served on the board, and most recently, assisted in brightening the preschool hallways with vibrant wall murals. As a board member at Gwinnett Tech, Ann helped plan a child development center and also painted murals for the center. She has played piano for summer church at the University Yacht Club for 40 years, founded and served as president of the Gwinnett Ladies Rotary Club "Innerwheel," and helped fundraise for the Center for the Visually Impaired. She continues to host the annual "Old Duluth Party" as its founder.

For her commitment to preserving the valuable legacy of the her community through her lovely treasured works of art, for showing true community and Wesleyan spirit in everything she achieves, and for representing Wesleyan and supporting it through the years, the Wesleyan College Alumnae Association presents the Alumnae Award for Service to the Community to Ann Parsons Odum.