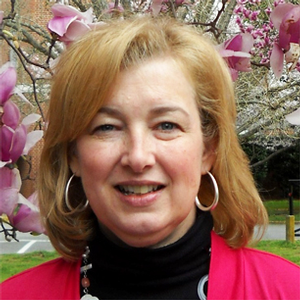 2013 Winner, Distinguished Service to Wesleyan
Anne Scarborough Hughes, Class of 1978
Among the more than 9,000 members of the Wesleyan College Alumnae Association, few have served her in as many different roles as Anne Scarborough Hughes. Student, parent, faculty member, liaison to the Methodist Church, alumnae leader – for over 35 years Anne has offered her considerable talents in service to her alma mater with enthusiasm, humility, and love.
In 1994 Anne was elected Secretary of the Alumnae Board of Managers, beginning a 12-year tenure that included a three-year term as National Alumnae President from 2000 to 2003. Her daughter Mollie Elizabeth, nine years old at the time, remembers scoffing at the idea of being "secretary" and being told by Anne, "I would wash the floors at Wesleyan if they asked me." Upon being notified of her selection for the Alumnae Award for Service to the College, Anne's response was, "I am so humbled that I feel almost too embarrassed to accept.... Being an alumna is gift enough."

Anne has served Wesleyan as a representative at college fairs all over the state of Georgia and as a presenter of Wesleyan First Awards at high school honors day programs. While a member of the Board of Managers, Anne opened her family's mountain home for the board's annual retreat. A member of the Society for the Twenty-First Century, she has shared the Wesleyan message among United Methodist Church ministers' wives and at numerous church functions in the communities where her husband, Jay, a United Methodist minister, has served.

During the academic year 2004 - 2005 Anne taught at Wesleyan as a full-time visiting professor in the Department of Modern Foreign Language, teaching all introductory-level courses in Spanish. In spring of 2010, Anne, in the words of one of her colleagues, "stepped in again and taught for us when we suddenly found ourselves without an instructor at the last minute. At considerable inconvenience to herself, Anne... gave us assistance at a very difficult time.... She demonstrated real Wesleyan spirit, when we needed it the most." Other career accomplishments include helping to pioneer on-line instruction as a high school Spanish teacher, building a successful business with Premier Jewelry, and her current work developing a Supplemental Instruction program at Piedmont College.

If one were to ask Anne, however, of her greatest accomplishment as a Wesleyanne, she would answer that it has been being able to pass along her love for the College to her daughters, Mollie Elizabeth, Class of 2006, and Amanda, Class of 2008. A mother could not ask for a greater compliment than that paid by Mollie Elizabeth in her nomination letter in which she shared that her mother "is always thinking about how to spread the gospel of Wesleyan... I hope that as an alumna, I can be as giving of my time as she has been through the years."

Another of her nominators wrote this: "Anne is a committed scholar and dedicated teacher, a devoted wife, a dedicated mother, a constant friend and supporter of Wesleyan College, a caring Christian to those in need, and an asset to any community where she has lived." It is a description to which any of her Wesleyan sisters would aspire. In recognition thereof, the Wesleyan College Alumnae Association is proud to present to Anne Scarborough Hughes the Alumnae Award for Distinguished Service to Wesleyan.