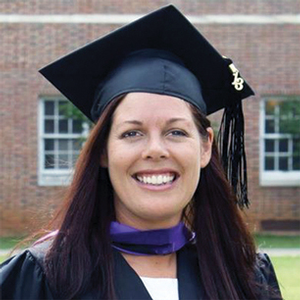 Angela Woolen '13
 Just like the young 20-somethings, I walked from the site of the old Wesleyan College to Mulberry Street United Methodist Church.

And like most of them that night at the Baccalaureate service, I shed a few tears, shared some laughs and thought about the future.

The next day, May 11, I walked across the stage along with 92 others at Porter Auditorium and received my bachelor's degree.

But I am not like my fellow 2013 graduates of Wesleyan College. I happen to be 38, a full-time reporter and a single mother to two children, Nicholas, 13, and Theodore, 5, whose extracurricular activities include playing in Warner Robins American Little League and the Feagin Mill Middle School band.

I started college in the fall of 1993, a few months after graduating high school in Florida. I wanted to be an elementary school teacher and also started riding on the equestrian team. I qualified for the Intercollegiate Horse Show Association's national competition, and Wesleyan flew my coach, Jon Conyers, and a few members of the team out to Colorado State University. It was one of the highlights of my collegiate experience.

After my sophomore year, I quit school to get married.

We moved around a lot. I ended up in Findlay, Ohio, studying to get an equestrian degree. After that, I moved back to Florida and had my first son. I ended up back in Middle Georgia in 2001, when I started work at The Telegraph writing obituaries.

I also started taking classes at Wesleyan to try to finish my degree. I took a few classes and stopped again.

When my second son was born, I tried to go back again, but took two classes during the summer and didn't continue.

With the prodding of a lot of my friends and family to get my degree, I finally enrolled in 2012 in my last classes for my undergraduate degree.

I told my classmates in my senior seminar class for my English degree that had I known then what I know now, I might not have pushed through.

My senior research project was on calligraphy, and I painted five medieval scrolls as well as wrote the background on each particular style of writing.

There were a lot of tears. A lot of nights when I just wanted to quit. A few times when my children wanted to go stay at their friends' houses to get away from their stressed-out mom.

To sit there, with my fellow students, who have such dreams, I could only imagine what it would have been like for me, if I had completed my degree in four years like they did.

In my wildest dreams, I never thought I would complete my elusive degree when I left school in 1995.

My journey started not long after most of these young women were born.

Both my mother and my father were able to be at graduation, as well as my two younger brothers and my best friends. My two children had the experience of seeing their mother complete college and receive her diploma.

As I sat there, surrounded by the fresh faces of women who were about to embark on the real world, I realized my experiences since I left Wesleyan have shaped me into the woman I am today.

A bachelor degree-holding woman.

A woman I am proud of.
Special thanks and congratulations to Wesleyanne Angela Woolen, a community reporter for The Telegraph and Sun News.