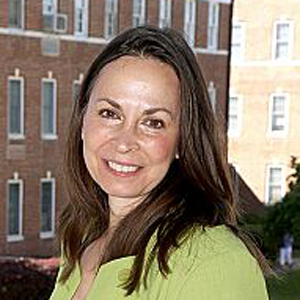 2014 Winner, Distinguished Achievement in a Profession
Amanda S. Jacobs, Class of 1984
When Amanda Jacobs '84 graduated from Wesleyan with a degree in piano performance, the Macon native aspired to be a performer and a concert pianist. To perfect her skills, she earned a master's degree in music from Georgia State University and continued her musical studies at the Conservatorium Alkmaar in The Netherlands, Nazareth College in Rochester, New York, and the Eastman School of Music at the University of Rochester.

For the last thirty years, Amanda has showcased her talents in a myriad of ways including as a playwright, composer, educator, musician, producer, docent, and student. Today she works and creates in three artistic disciplines: music, theater, and the visual arts and is working toward completing her PhD in educational psychology at Capella University.

Currently Amanda focuses on sharing music as a composer and playwright. It was through a tragedy in the late 1990s that Amanda discovered her life's calling as a composer. From this event, she produced her first musical, "Daniel," which premiered at the 2000 Edinburgh Fringe Festival in Scotland and was used as an outreach project for the Episcopal Diocese of Western New York from 1997 to 2001. Since then, she has composed and produced numerous works and is most recognized for her award-winning "Jane Austen's Pride and Prejudice, A Musical." The musical swept the New York Musical Theater Awards in 2011, winning the coveted Stage Entertainment award and Most Promising Musical award. Currently, the musical is under commercial option by London producers, and Amanda continues to develop it for Broadway production.

Amanda's work as a composer has been honored by numerous organizations including the Long Island Arts Council (1st Prize 2009), the Marin Lutheran Church Competition (2009), Celebrating Grace (2009), and the National Association of Teachers of Singing (2001). She received Honorable Mention from The Foundation for Sacred Arts (2010) for "MASS for the LIVING," a piece Amanda wrote as a tribute to her mother who passed away ten years earlier. "MASS" premiered in December 2010 with the NIH Philharmonia under the baton of Nancia D'Alimonte.

This year, Amanda was chosen to represent the Jane Austen Society of North America in their International Visitor's Program in the United Kingdom where she will spend six weeks this summer writing and composing music using the prayers of Jane Austen to create new liturgy for the Anglican Church.

In addition to being a PhD student and fulltime composer, Amanda is an artist educator and conducts workshops and presentations about the arts. Her workshops utilize arts-based activities to target current educational concerns and address psycho-social issues in children and adolescents. She uses evidence from the scientific literature to support her programs, including "Learning to Lullaby," promoting positive attachment, "Girl-Time," for 'tween girls, and "Gender in the Music Classroom."

Amanda continues to give back to her alma mater, having returned to Wesleyan last spring to showcase performances by music faculty in her adaptation of "Pride and Prejudice" and she has presented master classes to Wesleyan students on several occasions.

For creatively and passionately demonstrating the importance of the arts in human development and for her considerable contributions and steadfast commitment to her profession, the Wesleyan College Alumnae Association presents the Alumnae Award for Distinguished Achievement in a Profession to Amanda Jacobs.