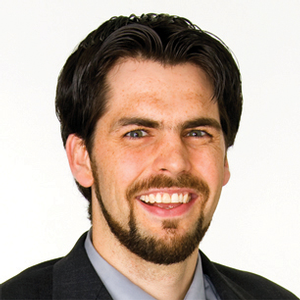 Aaron Barth, EMBA Class of 2009
 Aaron Barth, Wesleyan EMBA, Class of 2009, grew up with a lifestyle that he describes as nomadic. His parents' not-for-profit and U.S. State Department work carried Aaron's family through several countries outside the United States, including ten formative years spent in the Middle East. Some of Aaron's earliest and fondest memories are the years his family lived in Jordan's capital city of Amman. From his first years in grade school and learning to play soccer, Aaron feels fortunate to have been integrated into Jordanian culture as a child. As a result, Jordan has been close to Aaron's heart ever since. 
Aaron graduated magna cum laude from Harvard University in 2004 with a bachelor of arts degree in English and American literature and language and a minor in Spanish. The next year, he moved to Macon and began working at the Medical Center of Central Georgia. In 2008, Aaron enrolled in the EMBA program at Wesleyan and said it provided him with the motivation to further hone and develop tools that correlated with his work as a healthcare administrator. "The courses on global leadership, gender management, and business ethics, among others, continue to shape some of the ways I think and make business decisions today. Our two-week study abroad trip to China was a once-in-a-lifetime opportunity to observe business in another context. It is an experience I will never forget."
In 2010, Aaron took a sabbatical from his position as neurosciences and emergency services operations manager at the Medical Center and traveled through Africa and the Middle East. "Although I enjoyed each country I passed through, when I reached Jordan, I felt like I'd rediscovered a piece of my past. I love the people, the culture, and the nation as a whole. I felt like I had returned home," he said. Aaron spent five months with a team serving the nomadic Bedouin people at a small health clinic in the south of the country and prayed about his future. "I said: 'Lord, I'd love to serve the people of Jordan if there's an opportunity to do so. If it be your will, please open the door.'"
The door did open for Aaron, and he moved to Jordan in 2012 to serve as a hospital administrator for the Annoor Sanatorium for Chest Diseases at the Northern Mafraq campus. Founded in 1965, the then-small Sanatorium was started by two brave women with only $50 between them. They had heard about the Bedouin people of the Middle East and the great need for adequate medical treatment. That small clinic grew into a large forty-bed sanatorium and today is one of the regional centers for treating multi-drug resistant tuberculosis and a wider range of chest diseases such as chronic bronchitis, lung abscesses, and severe asthma. Satellite clinics also run in the northeast and south of the country, including the clinic Aaron served in 2010. The hospital treats more than 16,000 individuals a year in the outpatient clinic and annually admits around 175 long-term inpatients into the Sanatorium environment. One of the founders, Aileen Coleman, now in her eighties, still works with patients in the various clinics.
During his first year at the Sanatorium, Aaron learned behind-the-scenes work that goes into running three healthcare clinics spread across a country about the size of Georgia. He oversaw the finance department, managed day-to-day operations, and helped build upon the positive relationships with local officials. "In many ways," he said, "my move to Jordan was a natural next step in translating many of the professional skills and experiences I gained from Wesleyan's EMBA program and from working at the Medical Center."
According to Aaron, since the Syrian Civil War began in 2011, more than one million refugees have fled that country, and as of March 2013, approximately 300,000 of those Syrian refugees have entered Jordan. About 70,000 have been absorbed into the Zaatarih refugee camp just fifteen kilometers away from Annoor, and about 40,000 have moved into the greater Mafraq area. Annoor Sanatorium seeks to treat all refugees in need of medical care. Currently, about one quarter of the Sanatorium's inpatient population is Syrian refugees suffering from chronic illnesses (primarily tuberculosis), and makes up nearly ten percent of the outpatient population.
Jordan has become a second home to Aaron, and he has not discounted the possibility of spending the rest of his life there. "I know that anything can change at any moment. There is great value in planning for the future, but ultimately I'm only guaranteed one day at a time. I want to live faithfully for God, being the man he wants me to be and completing the tasks he's set before me," Aaron said.