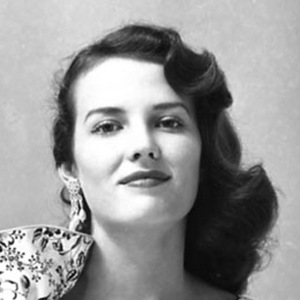 Neva Jane Langley Fickling
Neva Jane Langley Fickling enrolled at Wesleyan College in the fall of 1951 just before she was crowned Miss America in 1953. She won not only the talent competition for her performance of Toccata by Khatchaturian for piano but also the swimsuit and evening gown competitions. To date, Neva is the only Miss America in history to have the distinction of winning all three categories.   
When she arrived at the Wesleyan Conservatory in the fall of 1951, Neva was already a gifted pianist and serious student ready to undertake an intense academic schedule, hours of required piano practice, and a host of extracurricular activities. By her junior year, she was a member of Naiads (the College's synchronized swimming team), the Music Club, YWCA, and the business staff of Veterropt. Taking a year off from Wesleyan to reign and travel as Miss America, Neva returned to Macon and earned her Bachelor of Music degree (cum laude) in 1955, only a few months after marrying William A. Fickling, Jr.   
Through the years, Neva has performed in numerous musical programs here and abroad. She has served on the boards of the Atlanta Symphony, the Macon Symphony, and the National Symphony in Washington, D.C. She served on the Georgia Council for the Arts and Humanities, which is a gubernatorial appointment. In 1979, the Governor appointed her to a three year term as the first chair of the Citizens Advisory Committee for Georgia Clean and Beautiful. She later served on the national board of Keep America Beautiful, which honored her for her achievements by presenting her its highest praise, the Lady Bird Johnson Award. Neva has served on the boards of the Georgia Trust for Historical Preservation, the Hay House, the Macon Heritage Foundation, the Cherry Blossom Festival, and the Grand Opera House. 
 In 1984, Wesleyan honored Neva with an honorary Doctorate of Fine Arts degree.* Neva served as a member of the fine arts advisory committee and an emerita trustee on Wesleyan College's Board of Trustees until her death in the fall of 2012. The Neva Langley Fickling Recital Hall at Mercer University was dedicated in her honor in 2003.   
* In 2011, Mercer University presented Neva with an honorary humanities doctorate.