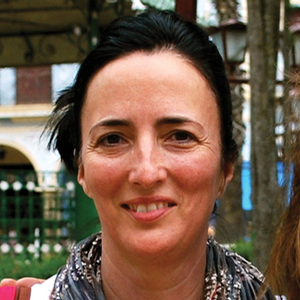 Meredith "Gay" Garrett
Meredith G. Garrett, M.D., Class of 1987
A 1991 graduate of the Vanderbilt University School of Medicine, Gay completed her surgical residency at Walter Reed Army Medical Center. Following residency training, she fulfilled her scholarship obligation with the U.S. Army, serving in Korea and Northern Virginia. In Korea, she served as the Medical Commander of the 135th Forward Surgical Team, specializing in battlefield surgery.   
In private practice at Anne Arundel Medical Center she served as Program Director for Breast Cancer Survivors through her affiliation with the Breast Center. She also maintained an active role in the surgical training program for the Breast Surgery fellowship at Anne Arundel Medical Center and for the general surgery residency program at Washington Hospital Center.   
Dr. Garrett joined Foxhall Surgical Associates in 2004 where she specializes in advanced laparoscopic surgery, breast ultrasound, minimally invasive breast biopsy, sentinel lymph node biopsy for melanoma and breast cancer, and surgery of the stomach, intestines and colon. She is currently involved in the initiation of a new Bariatric Program at Sibley Memorial Hospital.   
In January 2012, Dr. Garrett served as part of a surgical mission team with Solidarity Bridge in Bolivia. Her story in her own words:   
In late January 2012, Robin Wood '87 and I traveled to Bolivia as part of a surgical mission team with Solidarity Bridge. Solidarity Bridge is a non-profit organization based in Chicago with a mission of providing critical medical care to those living in poverty in Bolivia and Paraguay. I had been a surgeon on two prior mission trips to Bolivia in 2010 and 2011. This time, I asked Robin to join us as one of our Spanish translators. Solidarity Bridge has several mission trips every year providing care in many medical disciplines. One of the core areas of interest is in providing surgical care to the poor and improving the quality of surgical care for all Bolivians through working with and mentoring local surgeons.   
Our team consisted of three surgeons, three anesthesiologists, three physician assistants, two translators and multiple other support personnel. We were to work at three different hospitals in central Bolivia. We spent months collecting donated surgical supplies prior to our departure. Everything that we require must be carried with us, as supplies in the country are very limited and often unusable. Supplies were needed for everything from advanced laparoscopic, complex cancer surgery, and chest surgery. A total of seventeen missioners carried in medical supplies worth $856,000.   
We arrived in Cochabamba to a glorious day with sunny skies and temperatures in the 80s. We were met by our local team based in Bolivia, who quickly had us packed up and transported to our hotel. After a much needed nap and a quick meal, we began the monumental task of unpacking and organizing our gear.   
The following day Robin and I, with our team and our equipment, left on an arduous journey of four hours through mountain passes on hand laid cobblestone roads to the town of Aiquile. In Aiquile we were to launch our collaboration with Doctors Without Borders (MSF). MSF has a project in Aiquile treating patients with Chaga's disease. Chaga's disease is a tropical, parasitic disease endemic to Central and South America. The insects that transmit Chaga's live in the thatch and adobe from which the rural poor make their homes. If treated acutely, Chaga's is nearly 90% curable. However, the cost of the therapy makes treatment financially out of reach for most people with Chaga's disease. One of the manifestations of Chaga's is a massively enlarged colon that does not work properly leading to malnutrition and eventual starvation. Our job was to evaluate the feasibility of and initiate a program providing free colectomies to the poor in Aiquile afflicted with this disease. If successful, we would then move forward with additional trips in the future.   
Sunday when we arrived in Aiquile, the employees of Hospital Carmen Lopez were striking to protest the lack of a pharmacist. Our team was unable to inspect the only operating room because the nurse with the only key was on strike. Luckily, our patients were in the hospital waiting, and we began the pre-operative screening process. We felt that we could safely do between eight and ten colon resections in the time that we would be in Aiquile. This may not sound like a lot. In a US hospital, we could easily do two or three times that number of cases. However, we had to be sure that our efforts did not overwhelm the poorly equipped and staffed hospital.   
When word of mouth spread that a surgical team would be coming to perform free colectomies over forty patients showed up to be screened. Bolivia has free public health care for children until the age of five and for pregnant women. Otherwise, patients must pay for their care. The majority of people living in the Aiquile area are subsistence farmers and the cost of a colectomy is more than they would make in a lifetime.   
We arrived at the hospital the next day ready to start operating. As is usual with specialized mission trips, there are always unexpected hurdles to clear. Due to the strike, we did not have an OR nurse. Luckily, Robin bravely jumped in and filled that role for us, the ultimate "on the job training." As well, it turned out the anesthesia machine that we had seen through the OR door window the night before didn't work. This problem is not uncommon in Bolivian hospitals. The facilities will have machinery, but are unable to afford the repairs or maintenance required to keep it working. Immediately Dr. Pita, our team anesthesiologist, and I had to decide if it would even be possible to perform surgery safely at this remote hospital. It was depressing to think that we had literally traveled over oceans and mountains to get here to find that we could not safely take care of patients. Luckily, a local Bolivian anesthesiologist saved the day by bringing her personal anesthesia delivery device (calling it a machine would be overstating it) that, while simple, was safe and effective. At last, we could begin operating.   
During the course of the week, three teams completed nine colectomies at Hospital Carmen Lopez, seventeen colectomies and complex cancer operations at Istituto Gastroenterologico, and ten advanced laparoscopic cases at Hospital Santa Maria in Cochabamba.   
Upon leaving, it was evident that the need for surgery is so great and that our efforts, while a good start, were only a small fraction of the work that needs to be done. At this point, Solidarity Bridge is working with MSF to facilitate additional trips in the future. You can read more about the efforts at solidaritybridge.org.