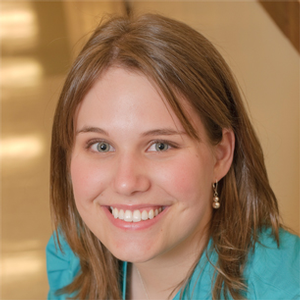 Lisa Ohman
Lisa Ohman Class of 2011
Equipped with a double major in biology and chemistry plus minors in economics and finance, Lisa plans to pursue her lifelong dream of becoming a physician. First, however, she will work in a research laboratory and shadow several experienced doctors to gain a broader perspective on the field of medicine.   
"Prior to attending Wesleyan, I intended to make practicing medicine in a small clinic my life's work. My Golden Heart class is the first to study science all four years in the Munroe Science Center and my experience in these research labs has opened my eyes to another realm of science – medical research. For me, perusing scientific literature in search of the pieces of the puzzle and an appreciation for the big picture taught me not only a great deal about science but also how to access resources to learn independently."   
A Munroe Scholar with a 3.84 GPA and a member of Mortar Board, Lisa's dedication to academic excellence is without question. In April, she presented her research (in the area of cellular patterns of estrogen receptors in human cervical and vaginal cell lines) to the Beta Beta Beta Biological Honor Society at their regional meeting in Huntsville, Alabama.   
Lisa is also well respected for her leadership with several organizations on campus including Wesleyan Disciples and Alpha Kappa Psi Professional business fraternity, for which she served as president. Recognizing her active involvement in community service and ability to lead others in service efforts, Lisa was awarded the prestigious Louise Frederick Hays Scholarship. During the past four years, she co-chaired Relay for Life, assisted with a Habitat for Humanity build, served as a WAVE member, and participated in many community service projects including WOW! A Day for Macon.   
Upon reflection, Lisa said that perhaps her most beneficial gain at Wesleyan has been heightened confidence and comfort with public speaking. "In high school I lost sleep at the prospect of having to present in front of my peers," she said. "Now, after the abundant public speaking exercises integrated into my classes at Wesleyan and the encouragement of my professors, I am more confident plus I am able to articulate ideas more clearly and think more rapidly on my feet." Eager to tackle the next step in her career Lisa feels well prepared academically and more adept in her communication skills.