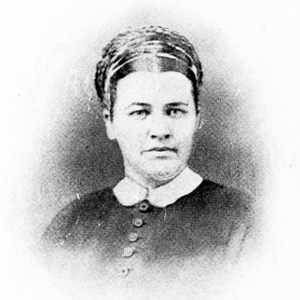 Laura Askew Haygood
Laura Askew Haygood Class of 1864
Although she was nearly forty years old when asked to serve as a missionary in China, Laura Askew Haygood firmly set her sights on educating women in Asia and became the first female sent into foreign missionary work by the Women's Missionary Society of the Methodist Church. With her strong commitment to equal education for women – unheard of in China at that time – Laura taught, served, and worked in China for seventeen years until her death in1900. After teaching for seven years at the Clopton School in Shanghai, Laura founded the McTyeire School as a home for missionaries and a Christian school for Chinese girls. According to the Shanghai Daily News, "Education was in English, teachers were foreign, and the outlook was decidedly Western." Laura Haygood taught many of China's most influential women of the early 20th century and others followed in their footsteps. Among the school's most famous alumnae are three sisters, Ai-Ling, Ching-Ling, and Mei-Ling Soong, all of whom left China for further education at Wesleyan. They were the first Chinese women to be educated in the United States. 
Laura's lifelong passion for teaching began immediately after graduating from Wesleyan. In less than one year, she began her own school for girls in Atlanta, which later merged with Girls High School where she served as a teacher. In 1877, Laura became the first principal of Girls High School and was greatly beloved by her students and faculty. With a true servant's heart, Laura also organized home mission societies that provided food and shelter to the disadvantaged in Atlanta. Her work with the poor included establishing an industrial school to train people in the skills needed to hold decent jobs. 
In 1926, Haygood Memorial United Methodist Church was founded in the Morningside neighborhood of Atlanta in honor of Laura Haygood and her brother Bishop Atticus Green Haygood. Another tribute came when the Women's Board of the Methodist Church, South, founded the Laura A. Haygood Home and School in Soochow, China. In 2000, Laura Askew Haygood was inducted into Georgia Women of Achievement.