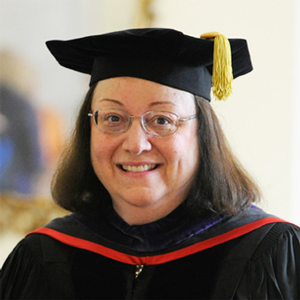 Janice Mays, Democratic Chief Counsel and Chief Tax Counsel for the House Ways and Means Committee
Janice A. Mays Class of 1973
During Commencement ceremonies in May of 2011, Wesleyan's graduating seniors anxiously awaited the call to action and inspiration of commencement speaker Janice Mays, Democratic Chief Counsel and Chief Tax Counsel for the House Ways and Means Committee. A member of Wesleyan's Class of 1973, Mays said, "Wesleyan is a shared experience for all of us. It does not matter when we attended. We share an excellent education, common traditions, and lifelong friendships as did our predecessors and as will the many women who follow us."   
In an article for The Washington Post, Mary Ann Akers called Mays "the most powerful woman in Congress you've never heard of…a genuine legend on Capitol Hill." Janice Mays joined the House Ways and Means Committee staff in 1975, the same year she graduated from law school. Initially, she was one of three tax counsels for the body and, throughout several presidential administrations, she has assumed greater responsibility on the committee. Today, Mays assists Democratic members with their legislative efforts related to those issues within the jurisdiction of the Ways and Means Committee – including tax, trade, Social Security, Medicare, welfare, and unemployment compensation. Janice Mays has been instrumental in passing every major tax bill during her 36-year tenure on Capitol Hill and is widely recognized as a leading tax policy expert.   
Mays earned a bachelor's degree (graduating cum laude) from Wesleyan College in 1973, where she was the only student at the time to major in political science. She went on to earn a Juris Doctor (J.D.) from the University of Georgia School of Law in 1975, and in 1981, she earned a Master of Law in Taxation from the Georgetown University Law Center. While at Wesleyan, she engaged in a three-month stint in the State Capitol as a legislative intern which led to a lifelong passion for service to others. She began law school planning to work in legal services for the underprivileged, but ended up in public service with the legislative branch of our nation's government.   
"I am amazed to look back on my life at those seemingly random but fateful events that led me in unexpected directions," she said. "Like many, at first I didn't plan to stay in Washington long. Today I am happy that I never left. I was fortunate to find my purpose in life, and that is to help make government work best for all of us."   
The Committee on Ways and Means is the oldest committee of the United States Congress, and is the chief tax-writing committee in the House of Representatives. The Committee derives a large share of its jurisdiction from Article I, Section VII of the U.S. Constitution that declares, "All Bills for raising Revenue shall originate in the House of Representatives." The committee exercises jurisdiction over revenue and related issues such as tariffs, reciprocal trade agreements, and the bonded debt of the United States. Revenue-related aspects of the Social Security system, Medicare, and social services programs have come within Ways and Means' purview in the 20th century. The roster of committee members who have gone on to serve in higher office is impressive. Eight Presidents and eight Vice Presidents have served on Ways and Means, as have twenty-one Speakers of the House of Representatives, and four Justices of the Supreme Court.   
In a letter sent to Wesleyan in support of Mays' nomination for the Alumnae Association's 1998 Distinguished Achievement in a Profession Award (with which she was honored), Michael B. Thornton, serving at the time as deputy tax legislative counsel for the U.S. Department of the Treasury, wrote that by virtue of her legal expertise, political savvy, and disarming Southern charm, Janice had a profound influence (for the better) on all tax legislation considered by the Congress, as well as on much other legislation that directly affects the daily lives of millions of Americans –– including social security, welfare, and international trade.   
"I have witnessed first-hand the enormous confidence bestowed on Janice by members of Congress, Cabinet members and top presidential advisers," he wrote. "It is probably not overstating the case to say that in Washington, one would not think to pursue any sort of tax legislation without consulting with Janice Mays."   
Mays' life-long dedication to public service fueled a powerful address on the critical importance of servant leadership. She stressed that government is only as good as its people require it to be and is always better when its citizens challenge it to serve them. "There is no time in our history," she said, "in which an educated and engaged citizenry has been needed more than it is now. As today's graduates, you are fortunate in the gifts you have –– you are intelligent, you have received an excellent education at Wesleyan, and you have the support of your family and friends. But, with great gifts come great expectations."   
Allowing that challenges can be wonderful and bring out our greatness, Janice told the graduates that our nation's current challenges cry out for a new generation of women to offer new ideas and new energy to surmount the significant hurdles we face as a country. "You are leaving this beautiful campus and the opportunities it has given you at a time of great challenge. Our economy is still struggling to recover, our nation is facing tough problems, and government workers from my Baby Boom generation are preparing to retire in droves." Mays then urged the graduates to "ignore the voices that are telling you what you ought to do. You cannot live anyone's life but your own. Listen to and trust your heart –– follow the passion side of your heart and listen to its voice above all others when making the choices ahead." While an undergraduate student at Wesleyan College, Janice Mays served on Mortarboard, was chairman of Honor Court, and editor of the campus newspaper Times & Challenge. She was a member of Who's Who in American Colleges and Universities, Phi Kappa Phi, Pi Gamma Mu, Pi Delta Epsilon, and Kappa Delta Epsilon. Mays received the Katherine Rogers Scholarship, STUNT Scholarship, Times and Challenge Communications Award, and served as vice president and judicial secretary of the Student Government Association. In 2004, the University of Georgia Law School Association awarded Mays with the inaugural Alumni Distinguished Public Service Award. During the 2011 Commencement, Wesleyan honored Mays with an honorary Doctor of Laws degree.