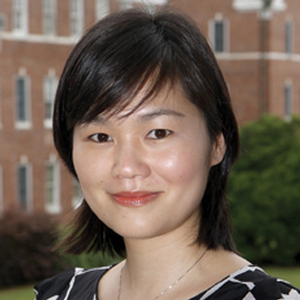 Hyun Mi Choi Corin, 2011 Winner of The Alumnae Association's Young Alumna Award
Hyun Mi Choi Corin Class of 2001
Hyun Mi Corin '01 was attending the Sook Myung Women's University in Seoul, Korea, when she was given an opportunity to apply for a student exchange program. On a list with more than twenty US colleges and universities, Wesleyan caught her eye. She attended her junior year, then after graduating from Sook Myung, she returned to Wesleyan to earn her second BA degree in art. She was the first exchange student to attend Wesleyan from Sook Myung.   
Four years later, with a master's degree in international policy studies and a certificate of nonproliferation studies from the Monterey Institute of International Studies in California, Hyun Mi worked as a full-time intern at the Center for Strategic and International Studies think-tank in Washington, DC, where her expertise was Northeast Asian Security. She also researched foreign policy issues, including cooperative threat reduction in Russia, A.Q. Khan's nuclear smuggling network, anti-American sentiment in South Korea, the U.S. / South Korean alliance, and U.S. Forces in Korea.   
While in graduate school, Hyun Mi worked as a research assistant studying proliferation of weapons of mass destruction in North Korea and the South Korean missile and satellite development program for the Nuclear Threat Initiative. In 2005 and 2006 Hyun Mi was Assistant Professor at Defense Language Institute teaching socioeconomic issues of Korea and Korean language to U.S. military personnel, preparing them for U.S. military intelligence.   
In the summer of 1999 Hyun Mi worked with the International Olympic Committee in Seoul. In July 2002, she worked with the Foreign Ministry of Culture and Tourism in Seoul, where she interpreted Korean and English between the ministry and a delegation of Malaysian community leaders. Working as a freelance artist and journalist in Kansas City between 2007-2009, Hyun Mi wrote for Korean publications on U.S. politics, foreign policy, and cultural topics.   
In May, Hyun Mi earned a second master's degree - an M.Ed. in sociology and education - from Teachers College, Columbia University in New York. Since July 2010, she has served as the Program Coordinator and Research Assistant for the Center of Korean Research at Columbia, where she designs and publishes a bi-yearly newsletter, assists in identifying grant opportunities, coordinates academic events, and hires and manages work-study students. Hyun Mi still enjoys painting and says that being an artist has always been her passion. "Creating good artwork requires exposure to ideas and interesting experiences," she says. "I believe my diverse academic background and career path have helped me develop as an artist."