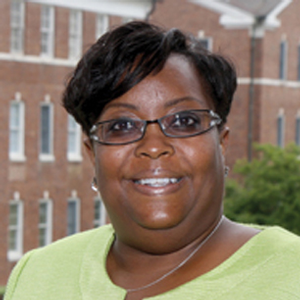 Geovette Washington, 2012 Winner of The Alumnae Association's Distinguished Achievement in a Profession Award
As Deputy General Counsel for the U.S. Department of Commerce, Geovette Washington '89 serves as second ranking officer in the Office of General Counsel for a cabinet level agency that employs more than 40,000 people. She assists the General Counsel in his role as the chief legal advisor to the Secretary of Commerce and chief legal officer for the Department and its 12 component bureaus, including the United Patent and Trademark Office, the International Trade Administration, the National Telecommunications and Information Administration, the National Oceanic and Atmospheric Administration and the Census Bureau. She plays a key role in managing over 325 lawyers located in 14 offices who provide legal advice to all bureaus of the Department.
The path that has led to her current position with Commerce began in the summer of 1988 when Geovette served an internship with Senator Sam Nunn. That internship convinced her to pursue a career in law, and she never looked back. After graduating summa cum laude from Wesleyan, Geovette entered law school at Duke University, earning her J.D. in 1992. Upon graduation she clerked for The Honorable Aubrey E. Robinson, Jr., Senior Judge, U.S. District Court for the District of Columbia, Washington, D.C. Following that clerkship, she joined the U.S. Department of Justice where she served as Special Assistant to the Assistant Attorney General.   
In 1996, Geovette entered private practice with the law firm of Baach Robinson & Lewis PLLC in Washington, D.C., and became a partner in January 2000. Among other matters, she successfully defended Lloyd's of London against a $500 million antitrust coverage claim in which she briefed and argued an appeal in the U.S. Court of Appeals for the Third Circuit, raising issues of sovereign immunity. Geovette was part of the team of lawyers that represented Vice President Al Gore in the litigation concerning the Florida vote count in 2000. She spent eleven months working in the general counsel office of one of the firm's clients in London, handling a wide range of matters. She left the firm in April 2010 when she accepted the offer to serve in the current administration.   
Geovette is happy to be back in public service where she finds satisfaction in serving her country. "I love to open the paper and see a story about something I've been working on. It makes me feel like I'm making a difference in people's lives." She has no interest in running for public office herself. She says, "I'm a problem solver. I work behind the scenes. If I'm doing my job, nobody needs to know who I am." Not surprisingly, Geovette's legal career has always made room for service. Wesleyan is fortunate that she has served her alma mater on the Board of Trustees since 2004.