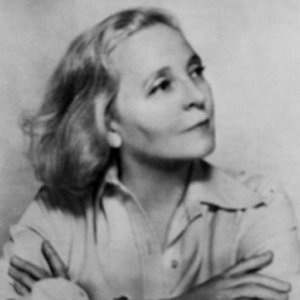 Eugenia Rawls
Eugenia Rawls Class of 1934
As an understudy for the actress playing Tallulah Bankhead's daughter in Little Foxes, Miss Rawls met Miss Bankhead for the first time. ''Who are you?'' Bankhead demanded. ''You look enough like me to be my own child.'' Weeks later, Eugenia was playing Alexandra to Bankhead's Regina Giddens on Broadway, after which they toured 104 American cities.   
Eugenia Rawls, famed actress of Broadway, grew up on Dublin's historic Bellevue Avenue. She was born in Macon, Georgia, on September 11, 1913. Eugenia described how, at the age of four and resenting the arrival of a sibling, she stood on a chair to reach the telephone and asked the operator to connect her with her grandmother in the nearby town of Dublin. She told her grandmother she would prefer to live with her, and Eugenia's family complied. Raised in a Victorian two-story home by her grandmother Mary E. Rawls and her aunts Miss Maggie Mae Rawls and Miss Gussie Bell Rawls, Eugenia's interest in acting was fostered at a young age. She started acting on stage at the age of five in a performance of Madame Butterfly in a local theatre and was taught speech by her aunts. A member of the Thespian Club and Dramatic Club in high school, Eugenia was President of the Irish Playmakers, voted Best Actress of her senior class, and served as President of her senior class at Dublin High School.   
Following high school, Eugenia studied drama at Wesleyan Conservatory in Macon and was involved with the Conservatory Players and served as President of the Drama Club. To continue with postgraduate work in drama, Eugenia decided to attend the University of North Carolina, where she met her future husband Donald Seawell. From North Carolina, she moved to New York and started her run on Broadway in her 1934 debut in Lillian Hellman's The Children's Hour. Some of her other Broadway performances include: To Quito and Back, Journeyman, Strange Fruit, Private Lives, and The Man Who Had All The Luck. Eugenia's performance in the 1939 production The Little Foxes was where she met Tallulah Bankhead, who would become a lifelong friend and mentor. Their southern upbringings provided an instant connection for the two stars. Mrs. Bankhead served as Eugenia's matron of honor in her wedding to Donald Seawell, and she eventually became the godmother to Eugenia's children, Brook and Brockman. Donald was also Tallulah's lawyer.   
After Tallulah's death, Eugenia developed a one-woman tribute, Tallulah, a Memory. She performed the tribute at the Lincoln Center as well as the Kennedy Center before developing a book based on her writings. Poetry was also a passion for Eugenia. A Certain Light was a book of poetry she wrote in the early 1970s. In 1972, Miss Rawls became the first American actress to perform at the Abbey Theater in Dublin, Ireland. She also developed two other solo shows in the 1970s: Affectionately Yours, Fanny Kemble, and Women of the West, and published a volume of poetry, ''A Moment Ago,'' in 1984.   
In Eugenia's older years in the 1970s and 1980s, she also acted in the soap operas, As the World Turns and The Guiding Light. She read the signature work of Lillian Smith in the PBS production of ''Memory of a Large Christmas,'' first broadcast in 1996.   
Her Middle Georgia roots always played an important part in her life. She returned to Dublin in 1983 to perform her one-woman show Women of the West at the Dublin Civic Theatre as a fundraiser for the Dublin-Laurens Historical Society. She donated some of her awards and photographs to the society, which are now housed in the Dublin-Laurens County Museum. Wesleyan College is the home to many of her pieces of theatrical memorabilia, donated by the actressherself. She received the Wesleyan Alumnae's Association award for Distinguished Achievement in 1969 and a Doctor of Fine Arts in 1982.   
Eugenia died in 2000 at the age of eighty-seven in Denver, Colorado, her home in her later years. She and her husband's passion for the theatre were evident in their involvement with the Denver Center for the Performing Arts as well as the recognition of a theatre being named in her honor. The Eugenia Rawls Courtyard Theatre is located at the King Center on the Auraria Higher Education Center in downtown Denver. The unique space is one of three of its kind in the world, and the only one in the United States. The theatre can change into three different spaces, from a traditional proscenium arch stage (Broadway style), to a thrust stage, to a theatre-in-the-round. The architectural style is reminiscent of an old opera house, with opera boxes wrapping around both sides of the stage and with seating up to 268 people. Another unique feature is that the catwalk system above the audience and stage accommodates access for physically challenged students.