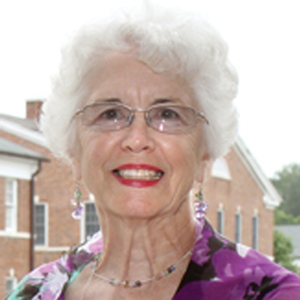 Charlotte Jolly Hale, 2012 Winner of The Alumnae Association's Distinguished Service to the Community Award
Charlotte Jolly Hale Class of 1962
Charlotte Jolly Hale '62 could easily serve as the role model for the servant leadership and advocacy Wesleyan College fosters through the Lane Center for Community Engagement and Service. Beginning at Wesleyan and continuing throughout the 50 years following her graduation, Charlotte's community service has ranged from promoting literacy through individual tutoring and supporting public school education to fostering international cultural understanding by participating in Friendship Force, Inc. While she and husband Floyd have lived in various neighborhoods in the metro Atlanta area and in North Georgia, Charlotte has found or created opportunities to improve each community.            
Charlotte tutored students at Hephzibah Children's Home during her Wesleyan days. When her own children were young, she began volunteering as a classroom tutor putting her master's degree in child development from Michigan State to good use. Her commitment to individual literacy would become a lifelong passion during those times when she was not teaching professionally. Charlotte has initiated reading tutoring programs in most of the communities in which she has lived, including her current service at Lake Forest Elementary, where she cultivates literacy among the largely Latino student body.   
Charlotte's contributions as a neighborhood school/community and public school advocate began in Atlanta in the 1970s. Charlotte and Floyd were active in PTA and became co-presidents. As a way to advocate for public schools, she helped organize and served on the first board of Apple Corps, a citywide school support organization, and also became Education Chair of the Morningside Civic Association. Charlotte was founding President of the multi-neighborhood school-community Council of Intown Neighborhoods and Schools (CINS), a group designed to bring together business, school, church, neighborhood, and political leaders in support of neighborhood schools. Charlotte's activism drew criticism at the time, but she knew that the principles she was fighting for were in the best interest of all children. As a friend puts it, Charlotte knew her efforts "would bring us one step closer to the realization of Dr. King's dream of a beloved community." 
Charlotte has enjoyed 22 years of active involvement with Friendship Force, Inc., an international organization dedicated to bridging the barriers of culture and language. Through Friendship Force, she has hosted numerous international guests, has visited in homes across the globe, and has attended international conferences. 
Charlotte's civic contributions have not gone unrecognized by her local communities. A former teacher of the year, Charlotte received the Golden Apple Award from Atlanta Public Schools in 1978. In 2008, the Boys and Girls Club of North Georgia and the Jasper Rotary Club honored both Charlotte and her husband, Floyd, for their work with at-risk children by establishing the Floyd and Charlotte Hale Goals for Graduation Program.