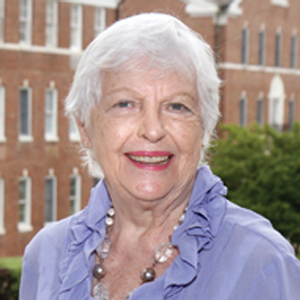 Charlotte Battle Everbach, 2012 Winner of The Alumnae Association's Distinguished Service to the Community Award
Charlotte Battle Everbach Class of 1952
Some would say that Charlotte Battle Everbach's '52 mantra, "We can do better than this" has been her hallmark for excellence and her battle cry in community service for most of her life. Her artistic talents combined with her passion for improving the world around her have earned her the respectful admiration of classmates, family, friends and leaders of the many organizations she has served. Charlotte found her heart for community service at Wesleyan when she arrived in 1948. Her choice of art history as her major helped to develop her keen eye for color and detail and the stylistic context that later distinguished Charlotte as a prominent interior designer. 
After graduating magna cum laude from Wesleyan and enrolling in graduate studies at the University of Southern California and New York University, Charlotte married John Everbach. They moved with their daughter, Geri, to Orlando in 1962 where she began her professional career in Interior Design – a career that spanned 42 years throughout central Florida. 
In 1977, when Charlotte first learned about what would become the Atlantic Center for the Arts, she knew this would be a place where she could help to make a difference. She became a trustee of Atlantic Center for the Arts in New Smyrna Beach, Florida, and in 1980 served as Chair for two years. She has continued her service as a trustee for 32 years. As the consummate fundraiser, Charlotte has always understood that it is all about friend-raising, and she quickly developed an impressive group of friends and supporters for the Atlantic Center for the Arts. Her enthusiasm inspired one patron to fund the Charlotte Battle Everbach Painting and Drawing Studio in 1995, saying "Charlotte is the lifeblood of Atlantic Center." In 2009, in recognition of her generous spirit and heartfelt devotion, Charlotte's exceptional service was celebrated with the prestigious Spirit Enrichment Award from the Atlantic Center for the Arts. 
Charlotte's commitment to improving her community extends to other area organizations as well. She volunteered with the Orlando Art Museum where she served on its Acquisition Committee and Board of Trustees. In 1981, the Women's Executive Council named Charlotte as their Outstanding Woman of the Year in the Arts. She has worked with the Friends Committee of Cornell Museum of Rollins College and served on the Acquisition Committee of the Orlando International Airport during expansion of its distinctive art collection. Friends of the Orlando Philharmonic Orchestra is also proud to claim Charlotte as one of its most active members. Her service to others includes her beloved Episcopal Church of the Good Shepherd, where she has chaired several committees and served on the church vestry, and her alma mater, hosting area alumnae gatherings and supporting Wesleyan through the Stanback Society and Wesleyan's Society for the Twenty-First Century.