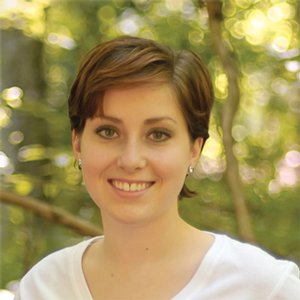 Catherine Cela
Catherine Cela Class of 2012
Catherine entered Wesleyan as a Munroe Scholar with plans to major in chemistry, but soon discovered her true passion was theatre. Before Wesleyan, Catherine had no theatre experience, but for several years she took classes in ballet, pointe, tap, jazz, and hip-hop and said dancing on stage must have ignited her love for the limelight. In her sophomore year, Catherine changed her major to theatre and graduated with a double minor in biology and music. 
A trip to San Francisco in February to participate in The University/Resident Theatre, the nation's oldest and largest consortium of professional, graduate theatre training programs, was a defining moment in Catherine's life. "It was terrifying and thrilling to go across the country by myself for the first time. I had a blast and learned a lot about myself and my priorities in life," she said. 
During spring break, she travelled to Chattanooga to participate in the Southeastern Theatre Conference and auditioned for a number of graduate schools. Callbacks from three prompted her to apply to their acting programs. Long Island University appealed most to Catherine because of its training in the Suzuki method, a physically demanding discipline for actor training. In the fall, Catherine hopes to move to New York and enter graduate-level actor-training program at LIU, claiming she can hardly wait to live in a city that has 24-hour delivery Chinese restaurants. 
Catherine appeared in several Wesleyan theatre productions including Sez She, BAMBOOZLED!, Vagina Monologues, Medea/Myth, and Princess Ida. In 2010 and 2011 she directed STUNT for the Green Knights, and in April Catherine was one of four Wesleyan advanced theatre students to serve as director for KARMA: Student Director's Showcase. Her other interests on campus included participating in Wesleyan College Soccer, class soccer, CAB, STUNT, WOW! A Day for Macon, and performing with the Wesleyannes. For her Senior Showcase, Catherine performed selections from My Fair Lady, Sweeney Todd, A chorus Line, Kismet, and others. 
According to Catherine, she was tickled pink to graduate. "I feel like I've been working very hard for a long time, and now it's all about to pay off – I'm on the edge of glory!"