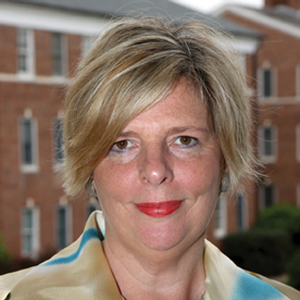 Caroline Thomas, 2011 Winner of The Alumnae Association's Distinguished Achievement in a Profession Award
Caroline Thomas Class of 1981
Internationally renowned opera star Caroline Thomas '81 inherited her gift of singing from her father, Blake Thomas, who she says still sings beautifully. However, she credits her great success to studying with Norman McLean during her years at Wesleyan. 
Caroline has been singing since childhood. She began singing at Druid Hills Presbyterian Church in Atlanta, where her father was a paid soloist. The choir minister there, Jerry Black, was her first teacher and he and his wife, Charlise Mallory Black '60, groomed Caroline for her Wesleyan audition. After graduating in 1981, Caroline studied at the University of Tennessee, Knoxville, earned her Master of Music Degree from the Curtis Institute of Music in Philadelphia, and attended the American Opera Center at the Juilliard School Lincoln Center in New York. 
Early in her career, Caroline performed with ensembles in Lucerne, Switzerland, Regensburg and Darmstadt, Germany, and Saverne, France. In 1997, she sang the premiere of Tosca at the Städtische Bühnen in Germany, where she was heralded as "the discovery of the evening… Münster's new Prima Donna." Caroline was hired as the Leading Lady of the City Theater and served in that role until 2001. In 1998, she was named Münster's Singer of the Year. She guested in Catania, Hannover, Kiel, Berlin, Innsbruck, Seattle and Washington, DC. 
Caroline has achieved international acclaim for her performances of works by Wagner, Mozart, Weber, Puccini, Verdi and Strauss. She has brought to stage the roles of Tosca, Donna Anna, Fidelio, Lady Macbeth, Aida, Chrysothemis, Ariadne, Kundry, Elsa, Leonore in La Forza del Destino and Wagner's Ring of the Niebelungen. Her concert work includes Verdi's Requiem, Beethoven's Ninth Symphony, Mendelssohn's Elijah, Strauss' Four Last Songs and Mozart's Requiem. Caroline has been described as having "wide sweeping tone, attractive femininity and precise vocal dynamics." 
In 2003, she sang as Brünnhilde opposite Placido Domingo and was awarded the Washington National Opera Artist of the Year. Other awards include Puccini Foundation Award with Licia Albanese, Liederkranz, Metropolitan Opera Regional Finalist, Grace Moore Fellowship in Opera at University of Tennessee, and Cash Award from Curtis Institute "Singer Most Likely to Succeed." 
A gifted teacher and mentor to future opera stars, Caroline has held a full professorship at the Hochschule für Musik in Detmold, Germany, since 2002. She calls it "the best job in the world!" Recent graduates are now ensemble members in Graz, Austria, Würzberg and Wüppertal, Germany. In 2008, she was elected as the first woman Dean at the School of Music in Detmold.