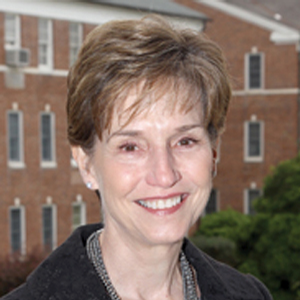 Bonnie Smith Slovis, M.D., 2011 Winner of The Alumnae Association's Distinguished Achievement in a Profession Award
Bonnie Smith Slovis, M.D. Class of 1966
At the age of forty, after having successfully raised two sons and worked in a variety of professions, and after earning a master's degree in counseling psychology and a master of science degree in health systems analysis, Bonnie Smith Slovis '66, M.D., M.Ed., MSHS, FCCP, began the journey to realizing her childhood dream. In 1986, twenty years after graduating from Wesleyan, Bonnie entered Emory University School of Medicine in Atlanta. "Graduate school was a big leap," she says. "Medical school was not an option."   
A member of Alpha Omega Alpha Honor Medical Society and recipient of a Lange Book Award, Bonnie graduated cum laude from Emory in 1990 and was honored with a Janet M. Glasgow Memorial Achievement Citation from the American Medical Women's Association. For two years she was a resident of internal medicine at University of Rochester School of Medicine, Strong Memorial Hospital in Rochester, New York, and then moved to Vanderbilt University School of Medicine in Nashville, Tennessee. In 1996 she completed her postdoctoral fellowship in pulmonary and critical care medicine at Vanderbilt.   
Bonnie serves as consultant at the hospital and also sees outpatients in the faculty practice. She oversees the health of more than two hundred cystic fibrosis patients. At Vanderbilt University Medical Center, Bonnie is the Associate Director for Clinical Affairs of the Division of Allergy, Pulmonary, and Critical Care, Director of the Pulmonary Patient Care Center, Director of the Adult Cystic Fibrosis Center, Director of Outpatient Pulmonary Medicine, and Associate Professor of Medicine. She is also an attending physician at the multidisciplinary Thoracic Oncology Clinic and Pulmonary Inpatient and Consult Service at Vanderbilt. "I am living my dream," she said. "This is what I've wanted to do all my life."


A highly sought after speaker, Bonnie has lectured at dozens of seminars, presentations, and symposia. She has authored and/or co-authored more than fifty publications, chapters and abstracts and is an effective grant writer who has received more than half a million dollars in grant awards to aid in her research. She is board certified in critical care medicine, pulmonology and internal medicine. She is a member of American College of Physicians, American Thoracic Society, and is a Fellow of American College of Chest Physicians.