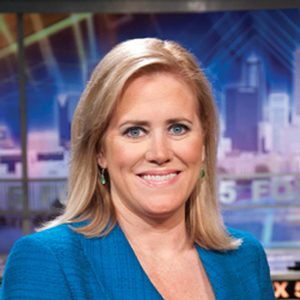 Beth Galvin
Beth Galvin Class of 1987
As a kid, FOX Medical Reporter Beth Galvin '87 wrote stories to entertain her father. Later, she wrote for her high school newspaper and also served as the copy editor for the yearbook. Beth entered every writing contest she could find, delving into a wide variety of subjects, because she loved the prizes: plaques, savings bonds, and, once, a trip to Washington, D.C. 
Because Beth's father served in the U.S. Army, her family moved often. During her junior year of high school, her family relocated to Ft. Stewart, Georgia, and the summer she turned sixteen, Beth landed a job as a "sort-of" reporter at the county newspaper, The Coastal Courier. The editor gave her a used Canon and paid her ten dollars per photo and fifteen dollars per article. "I loved it," she said. "I wrote about my high school and about the training at Ft. Stewart. My father saved every article. Looking back, they are a little cringe-worthy. But, being a reporter gave me the sense of belonging and connection I was missing. I had somewhere to go every afternoon, and I felt connected. That's when I first started writing on a regular basis." 
By her early twenties, Beth knew journalism was the career she wanted to pursue. As a senior at Wesleyan, she interviewed with WXIA TV in Atlanta and, in 1989, she started working for the station answering the phones as an assignment desk assistant. Soon, Beth began producing stories for the weekend anchors. Using the best examples of her work, she compiled a resume tape, sent it to nearly fifty stations, and found a field position with a station in Chattanooga, Tennessee. There, as a general assignment reporter covering daily news, she "learned more in the next two and a half years than [she] had in the first twenty-five." 
In the early 1990s, Beth accepted a special assignment to cover the famine in Somalia and the U.S. Air Force's response to that crisis. "We flew with crews delivering food to emergency feeding camps in the desert, and that had a pretty profound impact on me," she said. "I had seen famine only on television. I was meeting children half their normal body weight, seeing mound after mound of unmarked graves on the edges of villages. Schools were closed at the time, and I remember children following us through one village saying, in English, to me, 'Please, may I have your paper? May I have your pencil?' It was both humbling and heart-wrenching." 
After two and a half years in Chattanooga, Beth landed a job back at WXIA TV and returned to Atlanta. "It was an exciting time because Atlanta was gearing up for the 1996 Olympics, and the station was the hometown affiliate," she remembered. "I was a nightside general assignment reporter for three years at WXIA and then moved to WAGA, Atlanta's FOX affiliate, where I have been the medical reporter for ten years." 
Today, Beth is an award-winning journalist and the regular face of FOX5's Health Watch. Her inspiring and informative reporting style quickly caught the attention of viewers and also media and medical professionals. She won a regional Emmy for Outstanding Achievement in Medical Reporting and an award for Specialty Reporting from the Georgia Associated Press Broadcasters. The Georgia Physicians Association/Atlanta Medical Association also presented her with an award for Outstanding Health Reporting. 
"I dig up a lot of the stories we cover," she said, "and I also rely on sources and media contacts at the different hospitals and health organizations in our area." Once, for example, Beth covered a heart transplant step by step from beginning to end. Working with LifeLink of Georgia, an organ procurement agency, Beth and a camera crew followed a heart surgeon through the surgical procedure to recover the heart from a man killed in a shooting as well as the surgical procedure to implant the heart in the recipient, a nineteen-year-old college student who was quickly running out of time. 
"That moment in the OR when the surgical team removed the donor's heart was so powerful and spiritual," Beth said. "The recovery team of surgeons and nurses was completely silent, and reverent, in that moment when the donor's life ended. We knew one family was grieving a powerful loss, and yet giving another family a second chance."  
Beth's advice to aspiring reporters and journalists is simply, get started! "Get your foot in the door," she said, "and everything else will fall into place. My first job involved answering the phones on the assignment desk. Not exactly glamorous, but it gave me a chance to observe and learn and develop my skills. Take advantage of internships, even if they don't pay, and be willing to work hard. Push yourself. Set goals. Write whenever you can. Don't be intimidated –– everyone has to start at square one. Be willing to work extra hours, schlep equipment, and do whatever it takes to stand out. Always be gracious because the friendships and connections you make along the way can help you later in your career. Finally, read. Read anything and everything, the good stuff, the classics, the thriller everyone is hooked on because being a reader makes you a stronger writer." 
Beth credited Wesleyan for building her confidence. "Being around so many smart, gifted women and the liberal arts education at Wesleyan prepared me for lifelong learning. It gave me a foundation to do more with my life," she said. "Right now health takes up most of my professional focus, but I would like to expand into other topics. I'd like to branch out and do more print journalism, maybe some documentary writing."