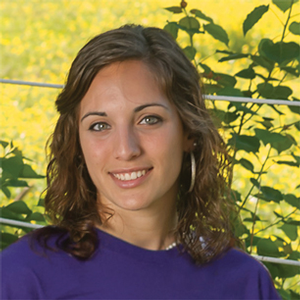 Azea Mustafa
Azea Mustafa Class of 2012
When Azea began considering colleges during high school in Richmond Hill, Georgia, the opportunity to play collegiate sports was extremely important to her. She found that Wesleyan professors were willing to work with her sports schedule, and with their support, Azea became an integral member of the Great South Athletic Conference NCAA Division III All-Academic soccer team, playing all four years. She was also a member of the Pioneers cross country team for three years, and served as secretary for the Student-Athlete Advisory Committee. Azea was honoured as Scholar Athlete of the Year for 2008-2009. 
 Playing sports, however, was not the only extracurricular activity in which Azea participated. She volunteered for Macon College's Relay for Life and WOW! A Day for Macon, participated in Summer Leadership Institute 2011, served in Splinters, WAVE, and as a Junior Marshal. Her academic excellence afforded her membership in the honor societies Phi Kappa Phi and Alpha Lambda Delta, where she served as vice president. She also served as president for both Kappa Delta Epsilon and Kappa Mu Epsilon. 
 As a mathematics and educational studies double major, this Munroe Scholar plans to teach high school in Bibb County. Already she has gained experience by tutoring through Wesleyan's Academic and Writing Centers. "The thing I love most about teaching is watching my students get excited about learning math. I feel at home in the math classroom," she said. The self-proclaimed "shy girl who had a lot to say" worked on developing communication skills in order to gain confidence in public speaking. She gives partial credit to her four-year participation in the musical antics of STUNT, something she said she would never have considered at another college. 
 Azea likes to spend free time with friends and Wesleyan sisters, run, and play soccer, football, and volleyball. This summer she will travel to the University of Alabama to watch the SEC championships with her family. After some time away, Azea will be back in Macon as a summer tutor with Stratford Academy's Learning Support Center and working at The Pink Physique All Women's Fitness Gym.