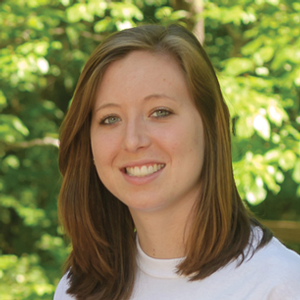 Alaina Harrison
Alaina Avera Harrison Class of 2012
When Alaina entered Wesleyan, she had no plans to follow in the footsteps of her father, a pastor in the United Methodist Church. Her plans were to earn a degree in graphic design and eventually start her own firm. But the summer after her freshman year at Wesleyan, Alaina said God pushed her in a different direction. While working as a camp counselor at Epworth By The Sea on St. Simon's Island, Alaina claimed God spoke to her through the campers and told her to go into full time ministry. "I struggled with this calling at first, but finally agreed to go with God's plan. Since that summer God has nearly paved the way for my ministry vocation," Alaina said. 
 It was during that week at Epworth that Alaina met Greg Harrison. "We met on a Saturday when all the counselors moved in and by the following Friday we were holding hands," Alaina said. The two were married in December 2011. Alaina and Greg started their full-time internships with Wesley Foundation of Macon in July 2012 and will continue to work there throughout the next three years as they both pursue master's degrees at Candler School of Theology, Emory University. 
Leadership and participation were an integral part of Alaina's Wesleyan experience. This Mary Knox McNeill and Julia Munroe Woodward scholar earned a double major in advertising/marketing communication and communications and a double minor in art and art history. Her co-curricular activities included serving as co-captain for the NCAA Volleyball Pioneers (where she earned the honor of NCAA Volleyball MVP), as a Wesleyan Disciple, public relations chair for STUNT, vice president of Mortar Board, Wesleyan representative and community chair for the Wesley Foundation of Macon, co-president of Splinters, head marshal for Junior Marshals, and class vice-president. She was also a member of Great South Atlantic Conference All-Academic Team. A member of Alpha Lambda Delta, Alaina ranks among Who's Who in American Universities and Colleges, and in April, Alaina received the high honor of being voted Wesleyan Woman of the Year by her Wesleyan sisters. 
 In her free time, Alaina enjoys ministering to college students and doing almost anything that includes hanging out with her husband, claiming her passions are what drives her to be the best she can be.