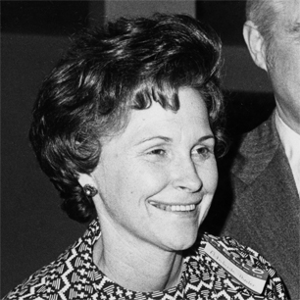 Adelaide Wallace Ponder
Adelaide Wallace Ponder Class of 1946
Adelaide entered the newspaper industry with full force in 1957 when she and her husband, Graham Ponder, purchased The Madisonian, one of the oldest newspapers in the South and the only paper serving Morgan County. As the weekly's new editor, Adelaide was stepping into big shoes. The Madisonian began in 1840 as Southern Miscellany –– edited by award-winning Georgia Journalist William Tappan Thompson –– and was one of the oldest continuing businesses in the county.
As co-publisher and one of just a few women editors in the state, Adelaide maintained a high level of excellence and produced a journalistically sound newspaper that was recognized as well written and responsible. Under her leadership, The Madisonian consistently won prestigious awards from the Georgia Press Association and became one of the Southern region's most respected weeklies. The Ponders were pioneers in the field of journalism and among the first in Georgia to transition from letterpress to offset printing. Their offset presses became the foundation for Greater Georgia Press, which at the time printed several weekly newspapers including The (Athens) Observer.
In a 1979 Atlanta Journal feature article, Adelaide commented on her role as editor of the award-winning paper. "It was hard for the public to accept a woman editor," she said. "I used to be embarrassed to cover county commission and City Council meetings. There are certain things men didn't want to talk to a woman about. I was just around all the time, and they finally accepted me." By 1979, Adelaide had earned statewide recognition for leadership in not only her industry but also her community. "That's the thing I love about having a newspaper," she said. "You can be part of the future of your community. You can make things happen."
In 1977, Georgia Governor George Busbee invited Adelaide to accept the Governor's Award from the Georgia Council for the Arts and Humanities on behalf of the Madison-Morgan Cultural Center. She had served as chairman of the committee to raise funds for the preservation and restoration of the Cultural Center and then acted as chairman of the building committee. Sixteen years later, Adelaide was invited to accept another Governor's Award. In 1993, she was honored as a community cultural leader by Georgia Governor Zell Miller and received the prestigious Governor's Award for her volunteer efforts to preserve the historic character of her native Madison, restore several historically significant sites, and communicate understanding of the area's rich history.