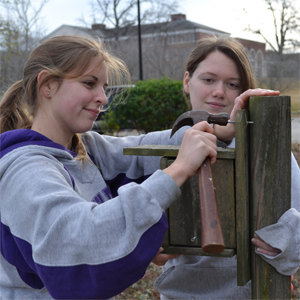 Students volunteered at Wesleyan's Environmental Concerns Committee Gardens.
Wesleyan WOWs Macon with community-wide service event
WOW! A Day for Macon is Wesleyan College's massive semi annual community service day, organized through the Lane Center for Community Engagement and Service. On Saturday, January 26, 2013, a total of 160 volunteers completed multiple projects simultaneously at 24 separate work sites throughout the City of Macon. Through lots of small efforts Wesleyan women, staff, faculty, and community volunteers made a big impact. Just a few of the local community sites benefiting from the event include Habitat for Humanity, Aunt Maggie's Kitchen Table, Macon Rescue Mission, Macon's Safe House,John Wesley Villas, Salvation Army, Goodwill Industries, Macon Housing Authority, Macon ARC, and Loaves and Fishes. Typical chores include cleaning, painting, landscaping, sorting clothes, conducting arts and crafts projects, and other jobs at the host sites.
New on the agenda this year, The Lane Center sponsored and facilitated a Fun Day in Anthony Homes Housing Community to kick-off the Work Readiness Program. The event engaged an estimated 150 people. Four work readiness sessions were held: Healthy Eating on a Budget, Creating a Winning Resume, Living with Relatives with Mental Health Issues, and Making Sound Nutritional Choices. The children enjoyed a Super Moonwalk and Basketball Goal, line dancing, a talent show with give-a-ways, face painting, Henna Tattoos, storytelling, and grilled hamburgers and hotdogs. 
GEAR UP (Gaining Early Awareness and Readiness for Undergraduate Programs) Director Janice Flowers, conducted AVID (Advancement Via Individual Determination) Orientation Training during WOW! A Day for Macon. AVID Tutors participated in a panel discussion with AVID Students from Miller Middle School who were visiting Wesleyan's campus.
"Our students volunteer to give back without prompting. They make service a part of their daily routine," said Lane Center Director Rhonda Green-Barnes. "WOW offers them the opportunity to combine their efforts with the greater Wesleyan community, the College's president, vice presidents, faculty, alumnae, and staff, in an effort to positively impact the Macon Community. WOW assists in initiating lasting service ties with agencies that are working daily to assist citizens in need."
WOW! A Day for Macon is an integral part of Wesleyan's goal to promote service-based learning among its students while building upon Wesleyan's mission to be "first for women's education—striving for excellence, grounded in faith and engaged in service to the world."  
Service can't be limited to the efforts of a single day, but the accomplishments of WOW! projects provide an enriching introduction to the power of engagement, inspiring many students to make longer-term commitments. Although service is not a requirement at Wesleyan, two-thirds of the students remain actively engaged in the community through Lane Center initiatives at dozens of local agencies throughout their college careers.