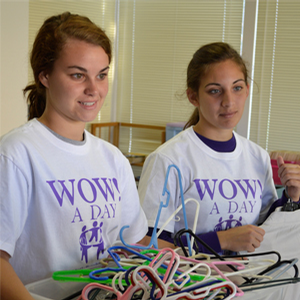 During WOW! A Day for Macon, students work at Macon Outreach, Mulberry Street United Methodist Church
Wesleyan Named to Presidential Honor Roll for Distinguished Community Service
Wesleyan College has been named to the 2012 President's Higher Education Community Service Honor Roll, the highest federal recognition a college or university can receive for its commitment to volunteering, service-learning, and civic engagement. The Honor Roll, launched in 2006, annually highlights the role colleges and universities play in solving community problems and placing more students on a lifelong path of civic engagement by recognizing institutions that achieve meaningful, measureable outcomes in the communities they serve. Honorees for the award were chosen based on a series of selection factors including scope and innovative nature of service projects, percentage of student participation in service activities, incentives for service, and the extent to which the school offers academic service-learning courses.   
Wesleyan has earned a spot on the Presidential Honor Roll every year since the community service recognition program began in 2006. In addition, the College earned the Honor Roll with Distinction Award for three consecutive years – an honor no other college or university in the state can claim. For 2012, Wesleyan is one of 513 schools nationally, and one of only nine in Georgia, to receive the Honor Roll Award. Other colleges in Georgia to earn a spot on the list include: Emmanuel College, Georgia College & State University, Georgia Institute of Technology, Georgia State University, Oglethorpe University, Spelman College, University of Georgia, and Georgia Perimeter College.   
The Corporation for National and Community Service, which has administered the Honor Roll since 2006, admitted a total of 642 schools to colleges and universities for their impact on issues from literacy and neighborhood revitalization to supporting at-risk youth. Of that total, 513 were named to the Honor Roll, 110 received the recognition of Honor Roll with distinction, 14 were identified as finalists, and five received the Presidential Award. Campuses named to this year's Honor Roll reported that nearly one million of their students engaged in service learning and more than 1.6 million participated in other forms of community service, serving a total of more than 105 million hours. 
"Congratulations to Wesleyan College and its students for their dedication to service and commitment to improving their local communities," said Patrick Corvington, CEO of the CNCS. "We salute all the Honor Roll awardees for embracing their civic mission and providing opportunities for their students to tackle tough national challenges through service." On campuses across the country, thousands of students joined their faculty to develop innovative programs and projects to meet local needs using the skills gained in their classrooms. College students make a significant contribution to the volunteer sector. According the annual CNCS Volunteering in America report, 3.1 million college students dedicated more than 312 million hours of service to communities across the country, service valued at more than $6.6 billion.   
Wesleyan students are connected with the community through the Lane Center for Community Engagement and Service. Officially dedicated during 2006, the Lane Center initiates community leadership development and coordinates projects, such as the nationally recognized Aunt Maggie's Kitchen Table program, Lane Center Tutors & Servant Leaders, and WOW! Days for Macon. Service learning is a cornerstone of Wesleyan's mission and is integrated fully into the co-curricular experience. Although not a requirement, more than two-thirds of the students are actively engaged in community service activities. 
The CNCS oversees the Honor Roll in collaboration with the Department of Education, the Department of Housing and Urban Development, Campus Compact and the American Council on Education. The CNCS is a federal agency that engages more five million Americans in service through its Senior Corps, AmeriCorps, and Learn and Serve America programs, and leads President Obama's national call to service initiative, United We Serve.