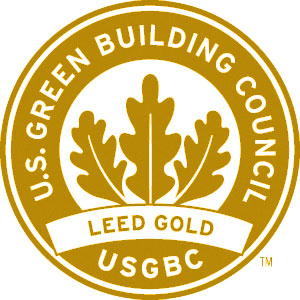 Wesleyan claims Macon's first Gold LEED Certification project
 In May of 2011, Wesleyan College received Gold Leadership in Energy and Environmental Design (LEED) Certification for its newly renovated Taylor Hall. The award, from the Green Building Certification Institute, recognizes the building's energy efficiency and the sustainability of the design and building materials used in its construction. Taylor Hall is Wesleyan's first LEED-certified green building, and according to the U.S. Green Building Council (USGBC) project directory, it also is the first LEED-certified project in Macon, Georgia. It is among approximately 115 other projects in Georgia to have received certification at the Gold level.
The Green Building Certification Institute is a third-party reviewer for the USGBC, a Washington, D.C.-based non-profit organization committed to promoting national sustainability through cost-efficient and energy-saving green buildings. USGBC developed the LEED Green Building Rating System to provide building owners and operators with a framework of tools and performance criteria for the design, construction, operation and maintenance of high performance green buildings.
News of the LEED certification became official in May of 2011, although Taylor Hall, Wesleyan's former science facility, re-opened in January of 2011. "We were determined to accomplish the Taylor Hall renovation in compliance with Leadership in Energy and Environmental Design (LEED) green building standards," said Wesleyan President Ruth Knox, "LEED certification at any level is an ambitious goal, and particularly for a historic renovation project. Initially, we aimed for Silver certification, but once the evaluations of the building concluded, we were confident they would result in the Gold certification. We're thrilled and thankful to have had so many dedicated partners guiding us through the project and the certification process. Taylor Hall now serves as a model for other environmentally sustainable construction projects in our region and on our campus."
After the completion of the new Munroe Science Center in 2007, Wesleyan College turned its attention to the needs of Taylor Hall. The historic building required extensive renovation, primarily to repurpose old science laboratories and classrooms into an expansive academic space for Wesleyan's growing business, education, and psychology programs. Taylor Hall now contains the best features of the building's original 1928 design paired with 21st century technology, mechanical systems, and furnishings.  The result is a beautiful space with history, character, and charm that is also quite modern in its interior design and functionality.
The renovated building features fourteen electronic classrooms, most of which contain Smart Boards, and other specially equipped rooms like one particularly large computer laboratory offering fifteen computer workstations and two projectors suitable for a wide variety of presentations. Wi-Fi is available throughout the building in addition to wired network connections. Digital controls monitor room temperatures and conserve water use. Even the lights turn on and off with motion sensors, both for convenience and energy savings.
Major design and building partners on the Taylor Hall renovation project included Dunwody Beeland Architects (Macon GA); H2 Ecodesign (Atlanta), lead engineer; Chris R. Sheridan & Co. (Macon, GA), general contractor; NBP Engineering (Macon, GA); Partners Development (Knoxville, TN), project management; and W.T. Design (Macon, GA), landscape architect.
Wesleyan's commitment to sustainability includes several other energy efficiency projects across campus, new institutional policies and programs, plus a rapidly developing vein of academic programming in environmental studies and science. In 2007, President Knox committed to reducing and eventually neutralizing all of the College's global warming emissions, and accelerating the research and educational efforts to equip society to re-stabilize the earth's climate. The pledge came with Knox's signing of the American College & University Presidents Climate Commitment (ACUPCC), joining the leaders of 400 other institutions across the country.
After joining the ACUPCC, Wesleyan conducted a comprehensive energy audit, developed a comprehensive long-range Climate Action Plan, and implemented institutional policies designed to reduce energy consumption – like purchasing only Energy Star certified products where those ratings exist, implementing a campus-wide recycling program, and adopting energy efficient temperature set point guidelines. The College plans to lower its energy consumption further by replacing or upgrading electrical, lighting, and mechanical systems in several buildings on campus.
Already, Wesleyan is receiving national recognition for its leadership in environmental awareness and sustainability. In 2010, Wesleyan was selected by the U.S. Green Building Council and The Princeton Review as one of America's top rated Green Colleges and is included in the inaugural Guide to Green Colleges as an environmentally responsible college.