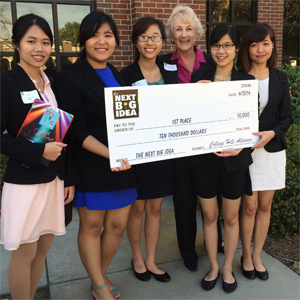 Team Mic
Left to right: Jane Ha, Tamara Bui, Hallie Ngo, Tram Nguyen, Denise Phung, and Dr. Glenna Dod Meyer, D. Abbott Turner Professor of Free Enterprise at Wesleyan College
The Next Big Idea
Next Big Idea: Wesleyan students win $10,000 first place award
In April, a team of five Wesleyan College students won the College Hill Alliance's inaugural Next Big Idea competition and the $10,000 prize that accompanies it. Their idea, a karaoke lounge with private rooms, is modeled after similar lounges in Atlanta. There are no businesses of this type in Macon.

Their idea is distinct in that it offers private rooms that groups of people can rent for $15-$25 per hour depending on the size of the room. One team member, Tamara Bui, said many people like karaoke but are not comfortable singing in front of a large crowd of strangers, so the business would allow people to perform in front of familiar faces. Also, the technology they plan to use would allow people to select from many different languages.

The students estimate they will need $82,000 for the state-of-the-art equipment and other expenses needed to start the business. Bui said winning the competition gives them credibility when it comes to securing a loan or investors. A rising junior, she also said they may have to wait until they finish school to start the business.

The event started with two teams each from six colleges in the area, including Mercer University, Georgia College & State University, Fort Valley State University, Middle Georgia State College, and Central Georgia Technical College. A team of five judges selected the finalists, and a separate team chose the winners.

Nadia Osman, director of Revitalization & Business Initiatives for the College Hill Alliance, said the competition will be held annually. It is intended to spur entrepreneurship among young people. She said she was impressed with the wide range of ideas proposed and the research the students put into their business plans. "Our hope is that each of these teams, no matter if they placed or not, will come to us and seek support to make their business dream a reality," she said.

Thanks to Wayne Crenshaw and Macon Telegraph for contributing to this story.