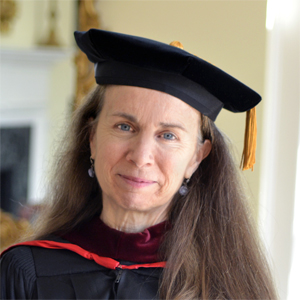 Pulitzer Prize winning columnist Mary Schmich delivers commencement address
Wesleyan College's graduating seniors anxiously awaited the call to action and inspiration of commencement speaker Mary Schmich, 2012 Pulitzer Prize winning columnist for the Chicago Tribune. On May 11, Schmich told the Pirates of 2013, "Every generation has faced challenges and tough times. You will too. But you are living in a wonderful world. You're setting out to shape it...And on the days that the world doesn't seem so wonderful, just take a deep breath and remind yourself: Honey, things will look better in the morning."

Born in Savannah, Georgia, the oldest of eight children, Schmich is the daughter of Mary Ellen Findlay Schmich, Wesleyan Class of 1945, and the niece of Wesleyan Trustee, Gayle Findlay, Class of 1955. Mary grew up in Georgia, attended high school in Phoenix, Arizona, and earned a B.A. from Pomona College where she co-edited the college newspaper. After working in admissions at Pomona for three years, she studied in France for eighteen months on a Rotary Fellowship. She then attended the Graduate Program in Journalism at Stanford University and interned at the Los Angeles Times.

"My brothers and sisters and I were raised on my mother's stories of Wesleyan, the way some children are raised on fairy tales." Schmich said. "In her telling, it was a magical place peopled by amazing characters. The names of the characters in her Wesleyan legends excited our childhood imaginations as much as Cinderella and Snow White."

Schmich emphasized that what Wesleyan gave her was an education. And what an education gave her was the love of learning and the skills for learning. "And Wesleyan gave her friends. I want to stop for a moment and have you look around at your classmates. There's a good chance that one or two or three of the women sitting here with you today will be with you for the rest of your life. Or theirs. They will know you in a way no one else can know you because they knew you at this age, before you were defined by parenthood or job credentials or the size of your mortgage," Schmich said.

Schmich told the graduates that she had no career advice for them, but shared ten things her mother taught her:

1. Life will shock you. And every shock, if you let it, will open some opportunity that never crossed your mind.
2. Everything will look better in the morning.
3. Give people the benefit of the doubt.
4. Read.
5. Stop smoking. And while you're at it, take your earbuds out from time to time and listen to the music of the natural world.
6. Remain a spiritual seeker.
7. Politics is just a piece of life.
8. There's always enough to give something away. No matter how little you have materially, someone else has less. Give something away. Your talents, your time, your money, your willingness to listen.
9. Find community. A church. A yoga studio. A soup kitchen. A running group. Something beyond your family that allows you to help other people and them to help you. And make time to tend your friends, even when your life seems too busy. You will need them.
10. Even the terrible things are beautiful.

Schmich has worked as a reporter at the Peninsula Times Tribune, the Orlando Sentinel, and, since 1985, the Chicago Tribune. She spent five years as a Tribunenational correspondent based in Atlanta. Her column started in 1992 and was interrupted for a year while she attended Harvard University on a Nieman Fellowship for Journalism.

In addition to writing her column three times a week, Schmich is the author of the 1998 book Wear Sunscreen: A Primer for Real Life, which first appearedas a 1997 column entitled "Advice, like youth, probably just wasted on the young." It begins with the injunction to wear sunscreen, and continues with advice for living without regret.In 1999, Baz Luhrmann released a song called "Everybody's Free (To Wear Sunscreen)" in which Schmich's column is read word for word. The song was a number one hit in several countries.A tenth anniversary edition of Wear Sunscreen was published in 2008.

Schmichalso authored the long-lived comic strip Brenda Starr from 1985 through its final appearance in January 2011, and has worked as a professional barrelhouse and ragtime piano player.