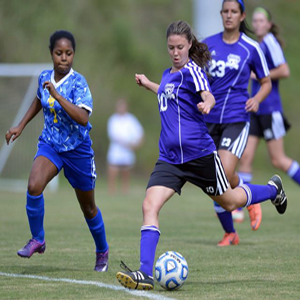 Leah McLeod named GSAC Soccer Player of the Week
Student Athlete of the Week
Week of September 9, 2013 
Name: Leah McLeod
Year: Freshman
Major: Neuroscience
Sport: Soccer
Position: Midfield/Forward
The Great South Athletic Conference has announced Wesleyan College's Leah McLeod as its first Soccer Player of the Week for the 2013 season for all games played through Sept. 9.

The freshman forward from Gosford, NSW, Australia, has led the Wesleyan College soccer team to a 3-1 start this season, which marks the best start in school history. She has led the Pioneeers to wins over Oakwood College, Johnson University Florida, and Johnson University (TN).

In an 11-2 victory over Oakwood, the rookie scored 4 goals and had 2 assists in her first collegiate competition. She followed up that performance with a 2 goal, 1 assist outing in Wesleyan's 10-0 victory over Johnson University Floriday. In Monday's 7-0 shutout win over Johnson University (TN), McLeod added one more goal to cap off her impressive week.

For her efforts through the first three matches of the year, McLeod now ranks in the top 10 nationally across NCAA Division III in five offensive categories. She is second in the nation in points per game (5.00 per game), tied for fourth in total points (15 points), tied for fourth in goals per game (2.00 per game), tied for seventh in total goals (6 goals), and tied for 10th in assists per game (1.00 per game).

"Leah has been a big hit for us since arriving to campus in August," remarked Wesleyan head soccer coach Ciaran Traquair. "She was playing at a good level in Australia and she has transitioned very well in life here as a Wesleyan soccer player. She is a big game player and has scored some fantastic goals so far this season. I think she will continue to improve and and can potentially become one of the best players in this program's history. I place a lot of responsibility on her to perform and I think she is gradually understanding her importance in the team being successful."

1) Given that you are from Australia, how did you hear about Wesleyan College and why did you choose to attend college in the United States?
I heard about Wesleyan through a scouting program in Australia called NSR that helps to match up student-athletes with appropriate athletics programs in US colleges. Coming to the US was an opportunity I couldn't refuse because it was a chance to do something exciting and nothing like I've ever done before

2) Describe your experience at Wesleyan thus far. How has it been different from your experiences with schooling and soccer in Australia?
My experience so far at Wesleyan has been completely positive. Although I'm half way across the world from my home, it hasn't often felt like that. In terms of schooling, I graduated back in 2011 in Australia so it is taking a bit of getting used to studying again, but the way of teaching is similar here. Adapting to playing soccer here is something that will take time, but I've enjoyed the experience so far.

3) You have already had quite an impact on the soccer team so far this season, scoring 4 goals with 2 assists in your first ever collegiate match. What is your history with the sport of soccer and how do see that helping you lead this team here at Wesleyan?
Soccer has always been part of my life and I've played at a range of levels. I believe my experience can bring something different to the team, as can everyone else's. I try to lead by the way I play, but I think the team is strongest when we are all leading and learning from each other.

4) What is your take on Coach Traquair and the direction he is taking the soccer program at Wesleyan?
I like the direction Coach is taking the program. He strives to get the best out of everyone and the team as a whole. I think with the coaching staff and the squad, we definitely have the opportunity to go far this year and keep improving every game.

5) What goals do you have for both your team and yourself this season?
Personally, my goal is to just keep improving and to continue to learn from the experience, and fingers crossed, remain injury free. As for the team, I think it's a similar outlook to become stronger as a unit, win as much as possible, and just take each game as it comes.

6) What class are you looking forward to the most this semester and why?
I'm probably most looking forward to Biology as it's a subject I've never really learned much about. I enjoy the sciences and learning about how things work.